Walking: the Changes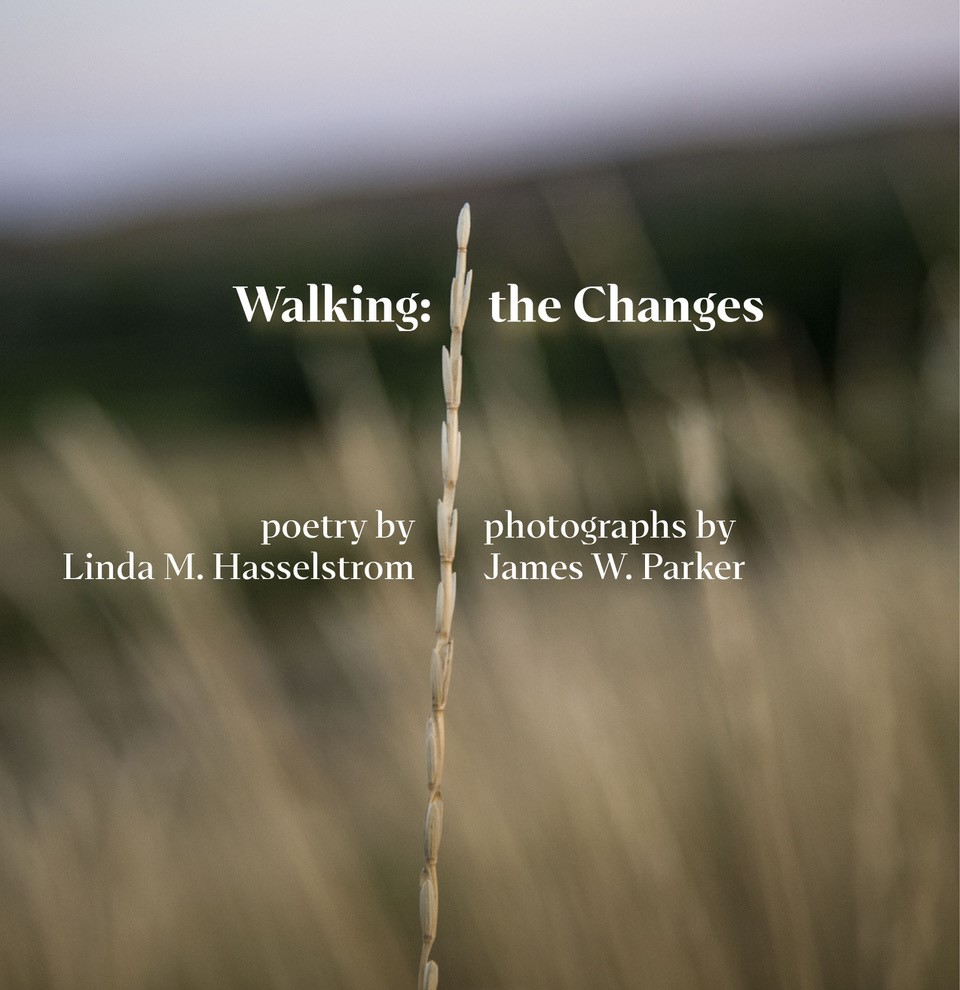 All About the Book.
Walking: the Changes
Poetry by Linda M. Hasselstrom
Photographs by James W. Parker
Published 2023
What's Here?
Book Information
A description of the book and publication information.
How to order an autographed copy from Linda and where else the book is available.
Tell Me More
Linda and James answer questions about the book.
Blurbs, Comments, and Reviews
What do people have to say about this book? Send us a note so your comments may be included.
Table of Contents
What's included in the book and its layout.
---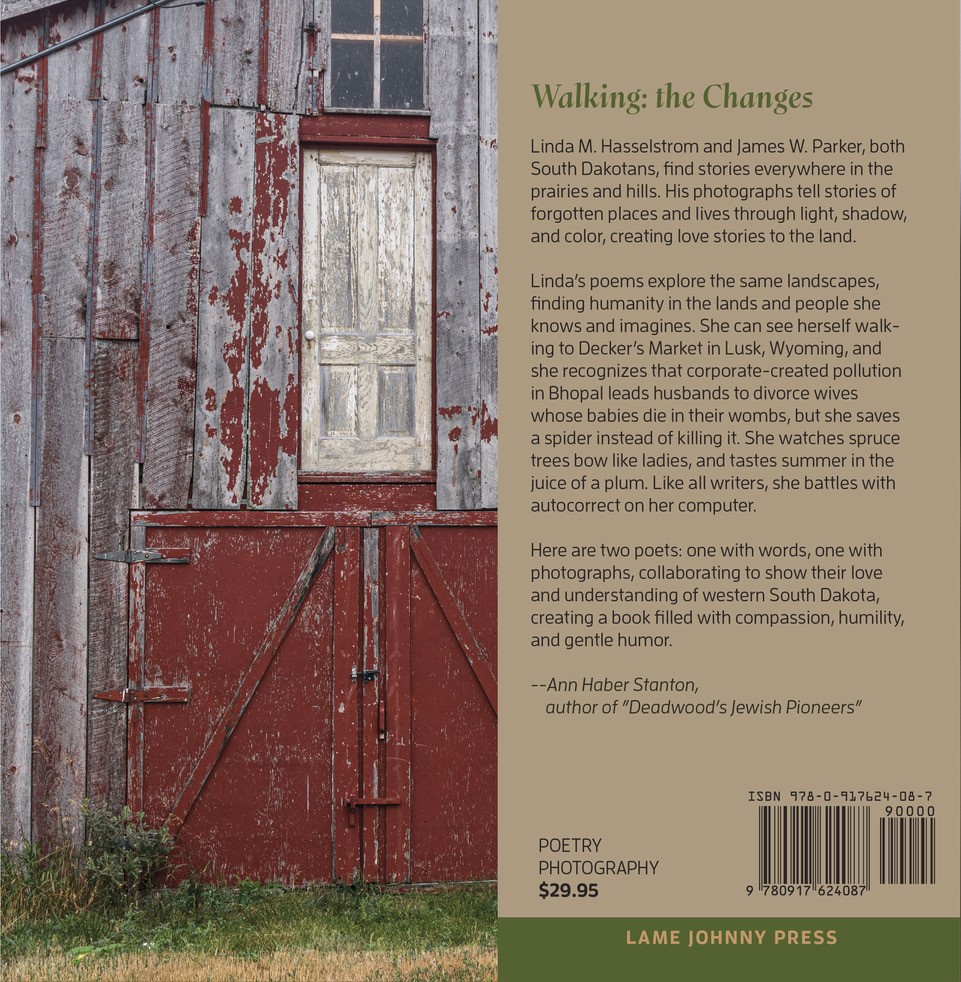 Linda M. Hasselstrom and James W. Parker, both South Dakotans, find stories everywhere in the prairies and hills. His photographs tell stories of forgotten places and lives through light, shadow, and color, creating love stories to the land.
Linda's poems explore the same landscapes, finding humanity in the lands and people she knows and imagines. She can see herself walking to Decker's Market in Lusk, Wyoming, and she recognizes that corporate-created pollution in Bhopal leads husbands to divorce wives whose babies die in their wombs, but she saves a spider instead of killing it. She watches spruce trees bow like ladies, and tastes summer in the juice of a plum. Like all writers, she battles with autocorrect on her computer.
Here are two poets: one with words, one with photographs, collaborating to show their love and understanding of western South Dakota, creating a book filled with compassion, humility, and gentle humor.
--- Ann Haber Stanton
Author of "Deadwood's Jewish Pioneers"
Walking: the Changes
Poetry by Linda M. Hasselstrom
Photographs by James W. Parker
Published 2023
115 pages
size 8.5 x 8.5
$29.95 -- paperback
ISBN: 978-0-917624-08-7
Purchase this book.
You may purchase a signed copy of Walking: the Changes from me for $29.95 plus $5 media mail shipping & handling.
Send a check, made out to me, to:
Linda M. Hasselstrom
PO Box 169
Hermosa, South Dakota 57744
Please include the title of the book you are ordering, and your email address or other contact information in case I have questions about your order. Thank you.
You will also find this book for sale on the usual online book websites.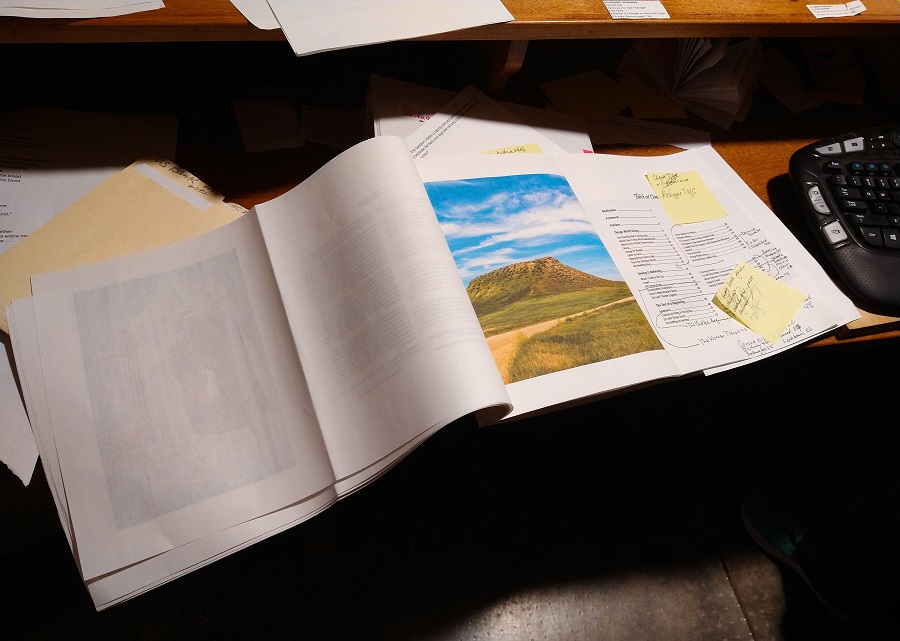 Tell Me More -- Linda and James Answer Questions About the Book
Q&A with Linda M. Hasselstrom, February, 2023.
Q: You and Twyla Hansen combined your poetry in the book Dirt Songs: A Plains Duet in 2011, and then you published Dakota: Bones, Grass, Sky in 2017, with 50 new poems (in addition to the full text of your earlier collection Dakota Bones). How were you able to write so many more poems for Walking: the Changes since 2017?
I write DAILY in my journal. If something stays on my mind, I may use it to create a draft of a poem or prose. Then I look at it periodically -- all those drafts -- and may start to tinker with them. My Poems directory has divisions: Drafts, Notes, Complete, Books. I see 30-40 drafts, some of which I apparently haven't looked at since 2012.
If I write something in the journal that seems particularly apt, I may make it a draft immediately. I used to carry around folders full of drafts to work on, but haven't done that for a while. Not sure why not.
I have the same type of files for nonfiction, and my fiction file has both published and unpublished stories in it.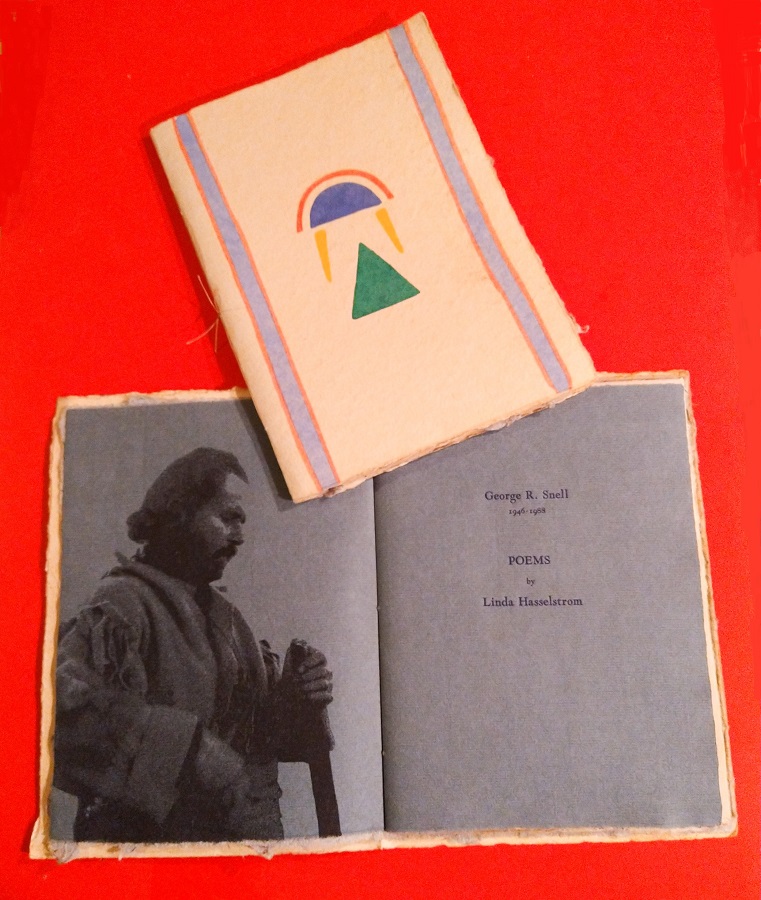 Q: You dedicated the book to your long-time partner, Jerry Ellerman, who died in 2020, and the first section of the book includes the poems you published in a hand-made limited-edition collection to honor your husband George Snell, who died in 1988. Are all the poems in the book memorials to them?
No, these are a collection of poems on many topics.
The George poems were published in a tiny edition just for his friends and family in 1989 after he died. I thought they were good enough to get wider readership, but I hadn't submitted them anywhere. I mostly do not submit work anywhere, not for a long time. I don't like the hassle of sending individual poems and getting back rejections. And a lot of magazines are only online.
Many of the other poems in the book are ones I worked on after Jerry and I moved back to the ranch, in 2008, when he retired after thirty years working with the Wyoming Highway Department. A few poems are older; all of them were revised for this collection. You can read more in the book's dedication, preface, and poem acknowledgments.
I did not write these with anything like a book in mind. James was interested in doing a book, so I chose the best of my unpublished work and sent it to him.
Of course now that Jerry has also died, publishing the George poems in WALKING is probably confusing. I might not have included those poems if Jerry were living. But I am 79-- I don't know if I will write another book or have another opportunity.
Q: Some of the poems are very touching (White Buffalo, Windbreak Now, Making Do) and some are laugh-inducing (The Spell Checker Suggests, The Woman Traveling With Me Talks to Her Husband, Walmart Prayer). Do you consciously try to write a sad poem or a funny one? Or do they just turn out that way?
Good grief, NO! I think that would be the very lowest of amateurish acts: "I guess I'll write a happy poem today!" I write what I'm thinking, and then may begin to consider it something to work on. Gertrude Stein said something like, "I write for myself and others. The others, dear reader, are an afterthought."
I have moods, like everyone else. I probably started thinking of White Buffalo when I was beside George's bed as he was dying.
Q: Are you still writing poetry daily/weekly, or are you taking a break after putting this book together?
I still write in my journal daily. Some of that may become a poem or an essay . . . or maybe not.
Q: In the Preface you mentioned you were named South Dakota's first "Living Poet of Merit" in 2020. Is that the same as "Poet Laureate"?
No, they are different.
In 2014 I was encouraged to apply for the position of Poet Laureate of South Dakota, but I declined. As I wrote in a letter to the president of the SD State Poetry Society, the many and very active obligations of the State's Poet Laureate, requiring extensive travel and teaching as an unpaid poetry ambassador, were not something I was willing to take on at that point in my life. I spent perhaps 35 years traveling the state to promote writing while working for the SD Arts Council, schools, and other groups, but by 2014 I was conscious that I had limited time and projects I wanted to complete.
You can read my essay with the full story, at my WordPress blog "Notes from a Western Life"
(Poet Laureate of South Dakota? Not Right Now, Thanks.)
In 2020, the South Dakota Poetry Society created the Poet of Merit award. One award is given for a living poet, and one is awarded posthumously each year. I was delighted to be chosen as the first recipient of this lifetime honor.
Q: Any new books in the works?
Not at this time.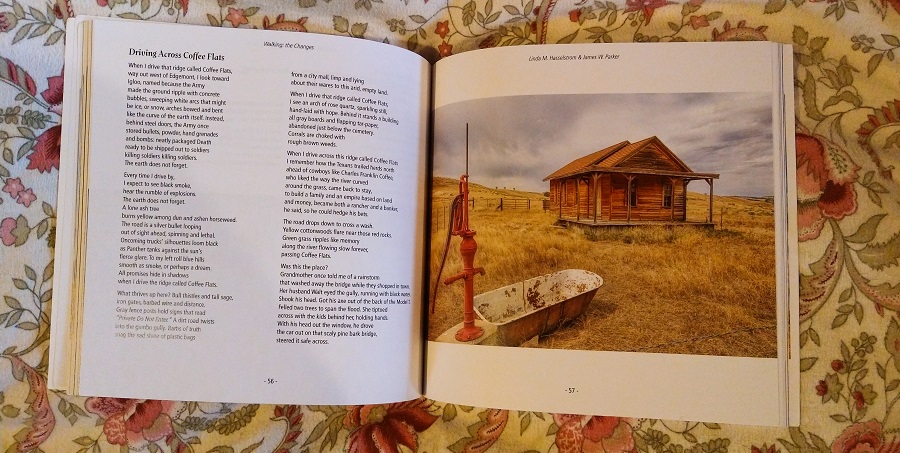 Q&A with James W. Parker, February, 2023.
Q: Did you take the photos specifically for this book, to illustrate the poems, or were they ones you already had in your photo files that just seemed to fit?
Some of the photographs in "Walking: the Changes" were shot specifically for this project, to show some of the Hasselstrom Ranch and the surrounding area. I've been shooting pictures in the Black Hills all my life, so I have a deep well of images to draw from as well. I chose some of my favorites to provide a humorous counterpoint, or to underline the subject in an oblique way. I'll leave it to the reader to interpret whatever meaning might be implied.
Q: How do you go about taking photos? When you find a subject -- a building, an interior, or a view, for instance -- do you form an idea of what you want before you shoot, or do you take a lot of varying shots and see what turns out well?
I tend to make a lot of pictures on a new subject, often exploring the field with a wide lens, and then narrowing down the more interesting subjects. After I've visited a place, I'll often come back and make images based on what I know about the area. Light, time of day and season often play a part as well. My first encounters with a location usually take the form of a documentary assignment, making lots of pictures, and keeping an eye out for interesting details.
Q: Your bio (page 114) mentions that you do some studio photography, and use strobe and tungsten lighting. Do you generally use available light when you shoot on location, like most of the photos in the book, or do you bring lighting equipment with you?
For documentary locations I never bring artificial light, although I know photographers who are quite successful in doing so. Studio shots, "The Right Words", for example, are done to a illustrate a specific idea, and is assembled from a blank slate to the finished picture. I start with a rough idea on paper, find props, make wallpaper, assemble it all, and then light for a specific mood and time of day.
For assignment interiors, I will usually use some basic lighting to reinforce what I find in the location.
Q: You not only took the photos, but you also did the book layout for Walking: the Changes and Linda's book Write Now, Here's How (2020, Lame Johnny Press), both of which are a pleasure to look at. What software do you use? Did the book go through a lot of drafts or did you have a good idea of how you wanted the layout? Any tips for aspiring book designers?
I started out using a Mac computer to do layouts way back in 1986, with a Mac Plus, MacPaint and MacWrite. Later, I got Pagemaker, Adobe Illustrator and Photoshop, and then migrated to Quark Xpress. Now I use a combination of Adobe tools (InDesign, Illustrator and Photoshop) to do the majority of the work.
Linda and I went through about 8 versions of the book, but a lot of that was minor adjustments after proofreading. I had a fairly good idea of what I wanted the book to look like, and I wanted it to have some family resemblance to Write Now, Here's How. For that book, Linda and I spent quite a bit of time looking at typefaces, and style combinations. For "Walking…" I had much more leeway, and a working relationship based on our getting to know each other over the course of the previous books.
For designers just starting out with books, it's good practice to learn to work with style sheets in the page design software. It takes some time initially to apply consistent styling to all of the use cases you encounter while laying out a manuscript, especially if the writer has not used styles in Word. I clean up a lot of writing gunk in the beginning: multiple paragraph returns, extra tabs, extra spaces, and so forth. I try to identify specific instances where a style is going to be helpful: adding a few points of space after each stanza instead of two paragraph returns, or creating indents and style shifts for notes. Building the style sheet lets you globally change the look of a book without touching every paragraph when you need a style larger or smaller. There's much more to it than that, but style sheets go a long way towards building a coherent layout.
InDesign has an excellent Table of Contents generator, too, when used correctly. Instead of manually keeping track of each subhead or title, the software will automatically change page numbers when content changes. It's well worth learning how to use it if you need to generate a TOC or an index.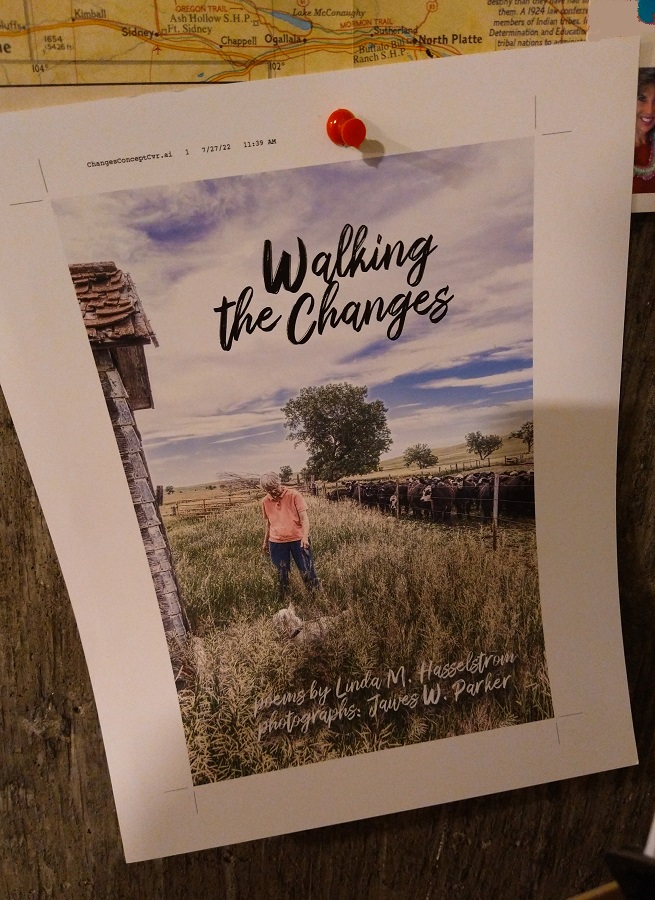 Q: Any words about selecting the cover photo? How many potential covers did you consider?
Originally, I liked the idea of having Linda and Hattie Two [Linda's current West Highland White Terrier dog] on the cover. The first concept had them out by the cattle holding corral, and I reduced the color of it a bit. I liked it a lot, but when I realized that this book was much more of a collaboration than the earlier books, I went looking for a representative image in my files. I've always liked this image of the brome grass, and it seemed to symbolize much of Linda's writing over the years as well as my work photographing the prairie. And it let me create a natural division between Linda's contributions and my own.
The photograph of Linda on the bio page came about while I was visiting her at the ranch, and I very casually snapped it without even looking through the viewfinder as we said our goodbyes at the gate.
Q: Any new books in the works?
I have ideas for a couple of new books, but I've been working on some other projects and haven't had time to flesh them out. I have a LOT of material from my father's (Dr. Watson Parker) archives, and many historical photographs of our property up in the Black Hills that would make some great history.
# # #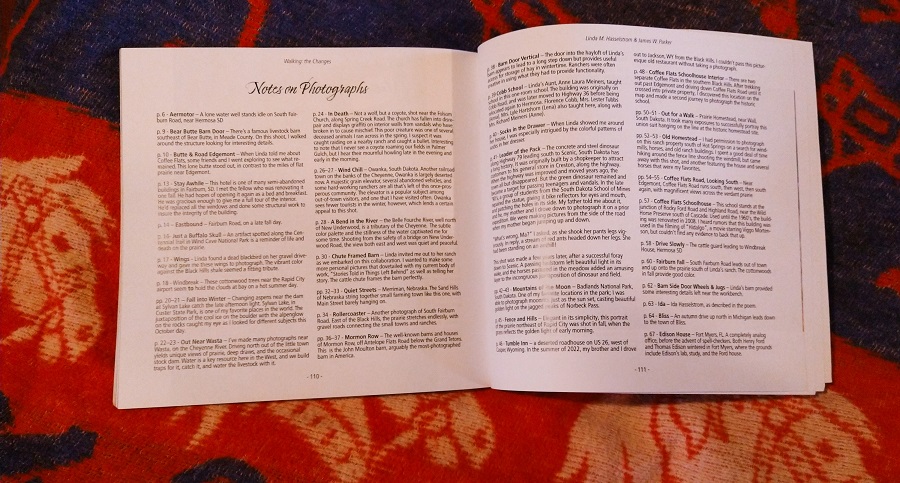 This book is only just being released in February, 2023, so other than the back cover material we have no reviews or reader comments yet.
Please send your comments to me and I will post all or an excerpt here.
info@windbreakhouse.com
Please let me know how you would like to be identified
* your full name, first name only, your initials only
* a description of you (eg. a reader in Montana, a public school teacher)
* also let me know if you want your location included (city and/or state)
Comments about the poetry and photos and overall look of the book will help people decide if they would enjoy this book.
Thank you!
---