The Wind Anthologies Leaning Into the Wind --- Woven on the Wind --- Crazy Woman Creek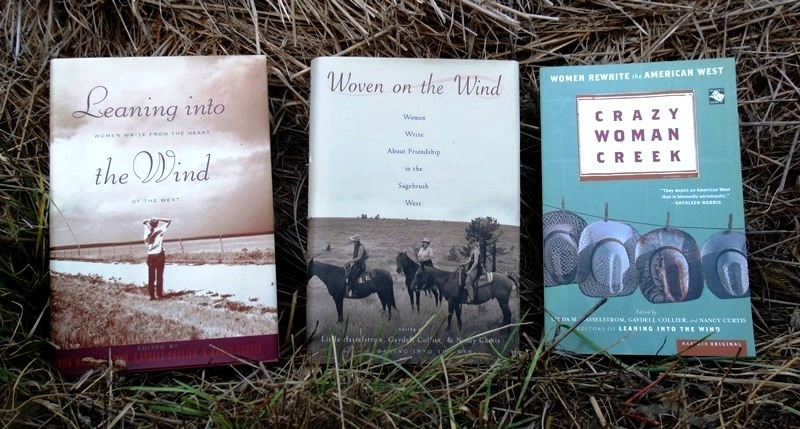 What's Here?

The Books ---

Leaning Into The Wind
Published 1997 -- The book that started it all!
Women write about living and working on the land.

Woven On The Wind
Published 2001
Western women write about family, friends, and enemies.

Crazy Woman Creek
Published 2004
Women write about their communities in the west.


Other Information ---

Gaydell Collier, 1935 to 2013
We said goodbye to an amazing woman in January, 2013.

Creating an Anthology
An essay by Linda and her co-editors about the importance of these three collections in documenting the real west. This essay not only tells how manuscripts were solicited and selected, but also gives some pointers on the editing process to those interested in putting together their own anthologies.

Alphabetical List of Contributors to the Wind Anthologies
To see the names and home states of all the writers contributing to the Wind Anthologies.

Who Made the Triple Crown?
A list of contributors whose work appears in all three books.

Lost and Strayed
We have lost touch with a handful of our contributors. If you are one of the following people, or if you know their whereabouts, please get in touch with us. Thank you!

Corrections?
If you note a correction that should be made here, from a minor typo to a glaring error, in the names, addresses, or titles of the stories or poems, please e-mail us so that we can correct it. Thank you!


back to top


---
Crazy Woman Creek: Women Rewrite the American West

Edited by Linda M. Hasselstrom, Gaydell Collier & Nancy Curtis

A collection of prose and poetry about real women in the West and their connections to a larger whole. 153 women west of the Mississippi write of the ways women shape and sustain their communities. Whether these groups are organized, imposed, or spontaneous, this collection shows that where women gather, anything is possible.

An Alaskan town hosts Vietnamese refugees; a "posse of lesbians" helps a newcomer; San Francisco commuters ignore their squabbles to rally around a larger issue; a village in Washington conspires to keep a developmentally disabled woman safe; Canadian women provide food baskets; a hippie mother in California creatively supports her local library; an Afghani and a Mormon help a new mother of twins; a rancher reports on the reactions of cowboys when she chooses horse work over housework.

Crazy Woman Creek celebrates community connections built or strengthened by women that unveil a new West.

With map, contributor biographies and introduction.


Published by:
Houghton Mifflin, Mariner Books
333 Berkeley St.
Boston MA 02116-3764
Phone: (617) 351-5000
Fax: 657-351-1201
Website: www.hmco.com


back to top


---
Woven on the Wind: Women Write about Friendship in the Sagebrush West

Edited by Linda M. Hasselstrom, Gaydell Collier & Nancy Curtis

A collection of true stories, poems, and reflections from 148 women of the interior West, writing about their kinship with other women, whether friends, relatives or enemies.

A mother makes a harrowing bus trip during a legendary storm to bring her blind daughter home for Christmas with the help of unlikely friends; a woman comes to terms with the role her husband's mistress played in her own freedom and independence; a newlywed finds belonging in her new Lakota family; a trio of women steal a motorcycle from an estranged husband.

Woven on the Wind tells of the beauties, ironies, rigors, heartbreak and humor of western life and how it is enriched by friendships past and present.

With contributor biographies, map and introduction.

Hardcover Published by:
Houghton Mifflin Company
222 Berkeley Street
Boston MA 02116
Phone: (800) 225-3362
or (800) 726-0600
Website: www.hmco.com


Paperback Published by:
Houghton Mifflin, Mariner Books
333 Berkeley St.
Boston MA 02116-3764
Phone: (617) 351-5000
Fax: 657-351-1201
Website: www.hmco.com


back to top


---
Leaning into the Wind: Women Write from the Heart of the West

Edited by Linda M. Hasselstrom, Gaydell Collier & Nancy Curtis

True life stories and poems by more than 200 High Plains women: sheep and cattle ranchers, grassland farmers, rural teachers and wilderness rangers. Some are native to the region, some are transplants, but all have made their living, at least in part, from the land.

Here are stories, both touching and hilarious, on the many uses of baling wire, surviving the weather, birthing animals, how to navigate a tractor, and how to tell the real cowboys from the fakes.

With contributor biographies, map and introduction.

Hardcover published by:
Houghton Mifflin Company
222 Berkeley Street
Boston MA 02116
Phone: (800) 225-3362
or (800) 726-0600
Website: www.hmco.com

Paperback published by:
Houghton Mifflin, Mariner Books
333 Berkeley St.
Boston MA 02116-3764
Phone: (617) 351-5000
Fax: 657-351-1201
Website: www.hmco.com


back to top


---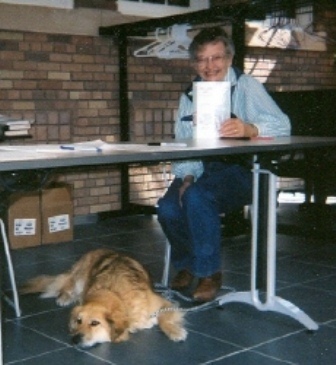 . . .
Gaydell Collier, 1935 to 2013



GAYDELL COLLIER was born on Long Island, New York and when she was co-editing the three Western women anthologies, lived in Sundance, Wyoming, with her husband Roy, who preceded her in death. She co-authored several books on horsemanship and horse care with Eleanor F. Prince, including Basic Horsemanship: English and Western. Her work has appeared in periodicals and anthologies, including The Christian Science Monitor and Flint-Edged Refrains. She was the consultant on "Horses and Horsemanship" for Encyclopedia Britannica in 2000. Her interests included ranching, reading, dogs, horses, grand opera and eating.


That's the official biography we sent out for Crazy Woman Creek but it does not begin to describe the multi-faced woman Gaydell was.

On January 24th, 2013, I was one of a handful of Gaydell's friends and family who spoke at her funeral. Here are the notes I used---

Nancy and I worked with Gaydell editing the three Western Women's anthologies. Leaning into the Wind, Woven on the Wind, Crazy Woman Creek. When we began collecting work for the first we knew each other in our public roles:

Nancy: publisher, editor, stickler for detail, loves books, rancher;
Linda: writer, former English teacher, loves books, rancher;
Gaydell: bookshop operator, librarian, loves books, rancher.

We got to know each other editing thousands of manuscripts, driving hundreds of miles and sharing many motel rooms to promote the anthologies.

We learned each other's quirks:
Nancy brought a coffee pot. Linda didn't own a hair dryer.
Gaydell got up at sunrise to write and read the Bible, ate leftover Chinese food for breakfast and brought enough chocolate for all of us.

Gaydell could not pass a Chinese restaurant or an office supply store. She was always presenting us with new kinds of paperclips, bigger rubber bands, new kinds of pens, new ways of organizing.

But sometimes we just couldn't face Chinese food AGAIN tonight!

We were all used to working alone, being in charge-- but we learned to trust each other's judgment. We learned how to balance one another.

Linda sometimes makes judgments without thinking ahead;

Nancy sees the overall picture: how long is this book going to be if we don't start cutting?

Gaydell thought out how a ms. might be improved to make it fit the book better. She spent endless hours consulting with writers.

We're fanatics about spelling and grammar but Gaydell became the authority on where to put the commas or how to spell Big Horn. Gaydell was the final proofreader.

She wrote the contributor agreement so that inexperienced writers would understand they were not going to get a million dollars.

She wrote the rejection notice, filling it with positive comments about the difficulty of choosing what to publish from thousands of manuscripts.

Gaydell thought of doing-- and did-- wonderful things that never would have occurred to us: for example she made personalized identification labels and put them on every single contributor's complimentary copy of the book.

Gaydell wrote in Leaning into the Wind
"The important thing is to touch the earth and stand in the wind, to know you are part of a whole-- not superimposed like asphalt. On the plains, in the mountains, you learn that you are as important as the beaver, the hawk, the dragonfly-- but not more so. You are part of the circle."


Gaydell will always be part of the circle.


* * *

A few email comments about Gaydell's death show how deeply she will be missed. Her good humor enhanced every situation and her intelligence and memory helped so many writers. For years she attended Bear Lodge Writers meetings in Sundance, WY, where many writers benefitted from her suggestions for their writing and found her an example for both the writing life and the rest of life.

Oh, how we will miss our sweet Gaydell. I remember she was one of the first people outside my family I ever shared my writing with. She never ceased to be encouraging and full of love (and laughter).

I was deeply saddened to hear the news about Gaydell. I will miss her steady presence, and cherish the memories I have of her.


Someone overheard her on the telephone the day before she died, speaking with her son, say, "I'm ready for my next big adventure." Gaydell began that next part of her journey on January 18, 2013.

Every day was a new chance for enjoyment for Gaydell and I hope that she's enjoying this one. For now, in memory of her, I urge you to enjoy every single opportunity you have for adventure.

* * *

Gaydell's published books: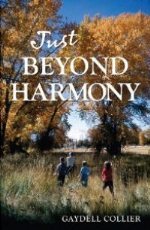 Just Beyond Harmony (2011) High Plains Press. ISBN: 978-0931271984.
A memoir of dreams and family adjustment, challenge, community, and the power of landscape.


Crazy Woman Creek: Women Rewrite the American West (2004) Houghton Mifflin. ISBN: 0618249338.
Co-editors Nancy Curtis and Linda M Hasselstrom.


Woven on the Wind: Women Write about Friendship in the Sagebrush West (2001) Houghton Mifflin. ISBN: 0395977088.
Co-editors Nancy Curtis and Linda M Hasselstrom.


Leaning into the Wind: Women Write from the Heart of the West (1997) Houghton Mifflin. ISBN: 0395837383.
Co-editors Nancy Curtis and Linda M Hasselstrom.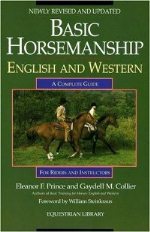 Basic Horsemanship: English and Western (1993) Doubleday. ISBN: 0385422644.
Co-author Eleanor F Prince.


Basic Horse Care (1986) Doubleday. ISBN: 038517229X.
Co-author Eleanor F Prince.


Basic Training for Horses: English and Western (1979) Doubleday. ISBN: 0385032447.
Co-author Eleanor F Prince.


Gaydell also had poems, essays, reviews, and articles published in magazines including Owen Wister Review, The Christian Science Monitor, Smithsonian, Farm & Ranch Living, and others; and in the anthologies Open Range: Poetry of the Reimagined West (Ghost Road Press, 2007); Wyoming Fence Lines: an Anthology of Prose and Poetry (Wyoming Humanities Council and Wyoming Arts Council, 2007); In the Shadow of the Bear Lodge (Many Kites Press, 2006); Western Horse Tales (Republic of Texas Press, 1994); and Wyoming Writers poetry chapbooks.



Official Family Obituary

Gaydell M Collier, of Sundance, Wyoming passed away January 18, 2013 at Rapid City Regional Hospital.

Gaydell Hara Maier was born to Jean and Harry Maier on June 28, 1935 in Garden City, New York. Brother Gary joined the family two years later. Gaydell often spoke with great affection about her parents, brother, and grandparents, saying she had the best of childhoods. "I grew up surrounded by books, fascinated by stories, especially of horses and dogs-and dreaming of Wyoming. Although I grew up on the east coast, I always knew my home was in Wyoming."

While attending the University of Wyoming, Gaydell met Roy Hugh Collier and they married in New York on December 27, 1955. They soon came to live in the Cowboy State. To that union were born four children; Sam Patrick, Frank Robert, Jenny Gaydell, and Seda Jane.

During the family's tenure in Laramie, Gaydell collaborated with her life-long friend, Eleanor Prince, authoring Basic Horsemanship: English and Western; Basic Training for Horses: English and Western; and Basic Horse Care. While living in the Harmony area, southwest of Laramie, Gaydell worked as circulation manager at the University of Wyoming library.

In 1977, Roy and Gaydell purchased their dream ranch near Sundance, Wyoming where Gaydell became Crook County Library Director for fourteen years. She also operated her ranch bookstore, "Backpocket Books." Her publications continued in periodicals, reviews, anthologies, and magazines.

Another wonderful collaboration with dear friends and co-editors Nancy Curtis and Linda Hasselstrom produced the well-known series Leaning Into the Wind: Women Write from the Heart of the West in 1997; Crazy Woman Creek: Women Rewrite the American West in 2004; and Woven on the Wind: Women Write about Friendship in the Sagebrush West, in 2001. Her last book and delightful memoir, Just Beyond Harmony, was published in 2012 [2011, paperback 2012].

Among the many awards and accolades, perhaps her most cherished was the prestigious Wyoming Governor's Arts Award for Literature presented in 2004.

Gaydell was a long-time devoted member of the Christian Science Society. Anyone who knew her understood the deep and abiding commitment to her faith. She was a charter member of Bearlodge Writers and Wyoming Writers, Inc. and a sustaining member of Women Writing the West and Western Writers of America. Writer, reader, editor, horsewoman, naturalist, librarian, lover of opera and chocolate, artist, mentor, caregiver, and cherished friend, she brought laughter and an exuberance for life to those who knew and cherished her.

She was preceded in death by her parents, husband Roy, daughter Jenny, son Frank, and brother Rev. Gary E. Maier. She is survived by her son Sam (and Pam) and their children Kaitlyn and Jacob; daughter Seda (and Kristin) and their children Trinidad and Samuel; daughter Jenny's children Ray (Faye), Corina (Jeremy), Earl (Chelsie), and Kathleen, son-in-law Jim Gilbertson, and great-grandchildren Tyler and Kassidy, sisters-in-law Nancy Maier and Marilyn Maier, and nieces and nephews Karen Mohr, Jonathan, David, and Kathleen Maier.

Her family was her heart's treasure.

# # #


Memorial service was at Fidler-Isburg Funeral Chapel, Spearfish, SD, Thursday, January 24, 2013


To honor Gaydell you may send donations to:

The Gaydell Collier Memorial Scholarship
(A Wyoming Writers, Inc. Conference Registration and membership given annually to an aspiring author)

Bearlodge Writers, Box 204, Sundance, WY 82729


For more information about Gaydell:

Wyoming Authors wiki website

website for the Bear Lodge Writers

Watch Gaydell tell the story of "Custah" on YouTube
– from her book Just Beyond Harmony, published by High Plains Press, 2011.


back to top


---
Creating an Anthology

by Linda M. Hasselstrom, with Gaydell Collier and Nancy Curtis


The First Anthology
Leaning into the Wind
Women Write from the Heart of the West

We three editors are ranch women who write and read as part of our daily lives. Gaydell Collier knew as a child that she wanted to live in the West, and has spent most of her life on a Wyoming ranch. Nancy Curtis grew up on the Wyoming ranch she now helps operate, and publishes books from her High Plains Press. Born in a Texas city, Linda dreamed of black stallions before moving to the South Dakota ranch she now owns, though she lives in a Wyoming city.

Whenever we read a new story about the rediscovery of the West-- our home-- as a potential site for recreation, making movies or dumping national waste, we'd shake our heads and go on chasing cows. We chuckled at drop-ins, folks who gallop through the plains and scuttle back to a metropolis, abruptly becoming authorities. "Bungee-jump journalists," Nancy calls them.

We commented to each other that, even though we had new neighbors, few of them helped brand calves or shovel manure out of the barn. We commended ourselves on our ability to laugh, joking that if weren't so busy, we could tell true stories that would astonish readers of those phony stories.


The Decision

None of us can quite pinpoint the moment we decided to create an anthology. But we told ourselves we had to find a way to show readers how the land shaped Western women into unique characters. We wanted to challenge stereotypes that portray Western women as either slim blondes in tight jeans or muscle-bound heifers who look and smell like old leather.

While collections of Western writing are as plentiful as real estate agents, or lice on a sick cow, they're usually edited by college professors. Smart editors write a proposal to several publishers, and wait for enthusiasm, a cash advance, a contract, and maybe expense money. Then they collect material in an orderly way, and stick to deadlines, whipping through the project in a year or two and moving on to something else.

We skipped the proposal, doubting it would impress a publisher who'd never heard of us. We couldn't prove we'd even get material, let alone enough for a good anthology.


The Structure

Separated by several hundred miles, by blizzards and the complicated lives most middle-aged women lead, we conducted editorial meetings by telephone and mail. We wanted writing by ranch and farm women, but-- realizing how quickly the West's population is changing-- we also wanted the views of women whose heritage, culture and opinions differ from ours. We needed the views of animal rights activists, vegetarians, women transplanted from cities, a diverse collection of voices that would become part of an ongoing dialogue about how we ought to live in the West.

After lengthy discussion, we discarded many standard rules for publishing an anthology. No editor in her right mind would accept (shudder) handwritten manuscripts. Most set word limits, require lists of previous publications, demand a particular form of presentation. We decided to invite essays, articles, reminiscences, diary entries, or poetry from women who now live, or once lived, in a working connection with the land. But no fiction; the West has been subject to far too many fictions already.

We chose to ask a series of questions devised hoping to solicit answers from contemporary women who would actually write the book. How would these women evaluate their lives and their place in modern society? What do they think of their companions, both animal and human? What conditions-- weather? isolation?-- affect them most? What do they think when a friend remarks how they're wasting their lives or their educations in a barren land? We wanted women to think deeply and then reveal their thoughts.

Still, we admitted we all grew up in a culture that taught us not to talk much about trouble. How would we solicit writing, persuade women to write to us the truth about their lives?

Instead of sending information to magazines read by writers, we wrote a one-page news release and sent it to agricultural weeklies, to stock-raisers' newsletters, to small-town newspapers, extension agencies, libraries and arts councils. We searched our individual mailing lists for the names of rural teachers who might give information to farm women, some taking classes so they could get jobs as their families lost their land or homes. We limited our search to six Western states-- North and South Dakota, Nebraska, Colorado, Montana and Wyoming.


Defining Limits

We wanted writing that was clear, though we were more interested in truth than grammar and writing style. Each piece of writing must be authentic, the writer's personal experience. On the other hand, we wouldn't choose writing because its style, or its author's lifestyle, was politically correct. Content would be our only consideration.

After considerable friendly wrangling, we conceded we couldn't define authenticity, but we'd recognize it. An out-of-region editor might not understand authentic if she were standing in it.


The Stack of Manuscripts

We were astonished to receive written material from 550 women. The submissions varied wildly, even in form: thick photo albums, tattered notebooks recording eggs gathered and sold eighty years ago, bound books containing self-published histories, a life story told in hundreds of handwritten pages. A few women began to write letters to us daily, recalling more details of their lives.

Gathered for our first editorial meeting, we stacked the submissions on a handcart for a photograph: the two stacks reached nearly to our waists, say four feet of material. We made photo-copies of each manuscript and cover letter so we could each read at our own pace.

At first, we told ourselves we didn't have to read it all.

Eventually all three of us read everything submitted, typing the parts we liked best, sending copies to the others. Several times two of us heaved boxes of manuscripts into a car to visit the third, learning to trust each other's editorial judgments in the middle of the job. Reading, we copied good lines, including the phrase "leaning into the wind." We didn't immediately choose it as the title, but our goose bumps told us it was authentic.

We spent a couple of weekends in Gaydell's domain, the Crook County Library in Sundance, Wyoming. When the library was open, we sat at a table in a back room, looking editorial. After closing we scattered, sprawling in chairs or on the floor among the stacks. Reading. Sunrise to midnight. Sometimes we'd gather the others to read aloud, listening to the rhythm of words, strangling on tears as we deciphered arthritic handwriting.

We all know the Western code: Swallow complaints. Don't talk about private matters. We found women who subscribed to these ideas, but we were also startled in ways we hadn't expected. Women wrote movingly of their patience, anger, of hope and faith and pain that struck us dumb. Best of all, these women are not names from the past; they are alive.


Winnowing the Harvest

Gradually, we narrowed the submissions. From five enjoyable essays about watching over first-calf heifers, we had to choose one. Again and again, we copied good lines to use as section titles. These women showed us why they lived in the West, with details that defined authenticity for us. The familiar and the unusual began to blend into a portrait of the contemporary Western woman.

Sometimes a writer's viewpoints differed radically from ours, and sometimes we editors disagreed with one another. We were often intrigued by contrasting views on various subjects. Most of the women have found pride in themselves and their way of life, whatever it is. Their views into history and the future are as broad and varied as their horizons; one may hate the conditions of Western living that inspires another. More than one was frustrated by being called a housewife instead of a farmer, particularly intriguing since some authorities have said Western women are not believers in "liberation." While some own the land where they work, others work for landlords, defining themselves not by gender or ownership but by labor. Together, the women spoke with quiet force, as they always have-- even during the last couple of centuries when historians weren't listening.

Separated by fierce winters and steaming summers, we kept reading, considering, editing, retyping. The more we read, the more vehemently we believed in the women whose voices we heard even in our sleep. We never stopped working on the book, though one year passed, then two.

After five years of reading and a collective century and a half of thought, we possessed a manuscript of a thousand pages, and declared ourselves unable to delete any more material. We began writing to publishers, asking them to look at either a sample of the book, or the entire stack. Several were interested, though all declared the size of the book must be reduced for publishing practicality.

We hated sending rejections after such a long time, but had to do it. Many writers responded with thanks for the inspiration and said they had begun writing memoirs for their children or for themselves. Some women whose work was not used thanked us for considering it, for working to "make this volume representative of the courage, stamina, and idealism of Western women."


Looking Back

We chose material for its content, with little regard for the author's name or where she lived. Still, we worried about a lopsided book, afraid we would take work from too many women in the same region. When we'd finished editing, we had accepted a comparable number of contributions from each of our six states.


What Have We Learned?

For the first four years or so of this job, when one of us mentioned "our next anthology," the other two threw heavy objects at her. Gradually, we simmered down until we only snarled at the mention of another project, and began to think seriously about it. What methods would we keep or change while putting together a second collection?

Here's what we decided:

-- Solicit material as we did for the first book, from agencies, organizations and publications that serve working people on the land;
-- Define the topic very tightly; quickly and resolutely eliminate pieces which do not directly address it;
-- Use the network of women who wrote for this book, their friends and the organizations to which they belong to help spread information about the next project;
-- Broaden the physical range of the book by increasing the number of western states where we solicit material;
-- Keep a running total of the number of contributors from each state whose work is still being considered, so we don't accept an inequitable number from one state;
-- Trust each other to weed out obviously unsuitable manuscripts, reducing photo-copy costs and paper waste. When we were all together, shuffling multiple copies became confusing;
-- Try to find early support from a publisher, so we can schedule and complete the project in a shorter time, and don't have to absorb all the initial expense ourselves.


The Second Anthology
Woven on the Wind
Women Write About Friendship in the Sagebrush West

Notes made as we completed most of the work on the second anthology:

We sent the draft manuscript to our publisher, Houghton Mifflin, on March 1, 2000.

Each of us did some editing by copying manuscripts onto her computer. Then we sent the disk to one central point-- Nancy's publishing business-- so that all the pieces could be consistent.

We've thought that if we were to do another anthology, and still want to accept hand-written manuscripts, we should also accept manuscripts on disk, to cut down on the amount of retyping.

It would also be helpful to number each line of each manuscript, so that in proofreading we could simply refer to "p. 1, line 43."


The Third Anthology
Crazy Woman Creek
Women Rewrite the American West

Traveling together to promote the first two anthologies at bookstores and libraries, we editors admired miles of countryside, saw hundreds of Real Estate for Sale signs, and noticed malls and subdivisions attempting to encircle small towns. "Like the View?" says one sign; "Buy it!" We discussed the idea that anyone can own nature, and asked how this trend will affect the Western communities where we live and work. Moseying along in Gaydell's truck, Flora the Explorer, spitting dust, we pondered the future of Westerners and wannabes in city and country and began this third collaboration.

From the rainy mountains of Oregon to the corn fields of Iowa, from the wheat fields of Saskatchewan to the arid plains of Texas, we solicited women's writing. For the first time in this anthology series, we relied on technology, e-mailing our call for manuscripts to twenty-two states, Mexico, and Canada's Western provinces. We flung our electronic message out to thousands of individuals and organizations focused on writing, reading, storytelling, journalism, rural life, the West, women's studies, and other fields; to radio stations, newspapers, magazines, publishers, and bookstores; to state and regional arts councils, extension services, and on-line discussion groups.

Nearly four hundred women responded, sending us almost seven hundred answers in the form of essays and poems.

Though writers were not allowed to submit their contributions by e-mail, we did ask for and receive some submissions on computer disks; in certain cases, we were able to transfer documents directly to our own computers without having to retype them, one of the time-devouring chores of the earlier books. We also worked with some writers on their manuscripts by e-mail. We editors met to discuss the anthology only once and conducted the rest of our business electronically, despite computer gremlins and outages caused by floods, blizzards, Wyoming wind, and fire.

We cannot say that "we never left anyone out," but we are grateful also to the women who submitted pieces we are not able to publish. Their thoughts helped shape our perceptions of this book, and their writings inspired agonizing debates. Our most difficult task was deleting pieces we relished, in order to adhere to our contractual word limit.

The third Wind Anthology collects 158 selections in prose or poetry from 153 contributors, portraying diverse communities in twenty-one states and one Canadian province, all west of the Mississippi River.

We delight in the diversity of these texts. Women whose lives differ from ours demonstrate that the West is no fantasy paradise where everyone dresses, votes, and thinks alike. As editors, we must present the truth, because we answer to our contributors. Some of these women are downright cantankerous!

Like the two collections of writing that preceded it, Crazy Woman Creek: Women Rewrite the American West has been created by its contributors. We asked women to draw upon their experiences living west of the Mississippi River, to write a good and true story about contemporary women in any community, whether it's a place, an organization, or a spontaneous gathering. Although men were not excluded, we wanted stories focused on women, and on how their actions affect others. Our yardstick would be, as always, authenticity and quality of writing.

Evaluating manuscripts, we were alert for writing that grew out of strong convictions, whether we agreed with the conclusions or not. If a particular subject drew the attention of several writers, we worked to eliminate repetition and to select the most appropriate account. We loved brilliantly-written compositions, but we also appreciated the work of less experienced writers whose beliefs and emotions were an important component in the collective voice. We asked ourselves how to balance prose and poetry, how much attention to pay to geographical distribution. Eventually, we agreed, the true stories we chose had to possess a quality we call heart.

As in our two previous collections, in Crazy Woman Creek we allowed submissions to determine the content and organization. We might have created several other books from the available materials. As one contributor writes, "making community is like making rag rugs: it requires a lot of stitching-together, a decision not to regard any one scrap of fabric as essential to the design." Every one of us, and all the brilliant things we say and write, are merely scraps in a crazy quilt. Remove one of us, ten of us, thousands of us, and the design will change, but the creation will be braided anew, the gap filled by another rag or ribbon, so that the community remains strong and beautiful.

This book began with the real West and its women, and with writing collected in the two previous books, both published by Houghton Mifflin. Instead of erecting monuments, the writers in these pages demonstrate community connections in story form. We expect the books to provide inspiration for our descendants a lot longer than the average fad does, whether it's a trendy bestseller or even a marble obelisk.


# # #
back to top
---
Alphabetical List of Contributors to the Wind Anthologies

The title of each piece and the book in which it appears is listed below each author's name. Note that the state given with each name is the state where the writer is currently residing, not necessarily where the story or poem took place.

Please e-mail us if you have corrections or updates to this list. Thanks.

To speed your search for a specific name, click on the letter to jump to that portion of the list:

A B C D E F G H I J K L M N O P Q R S T U V W X Y Z



Darcy Acord – see Darcy Lipp-Acord

Lucy Adkins – Nebraska
Woven On the Wind: "Linda"
Crazy Woman Creek: "Writing into the Storm"

Linda Aldrich – Colorado
Crazy Woman Creek: "Hook and Turn"

Sana Amoura-Patterson – Nebraska
Crazy Woman Creek: "Wednesdays at Walgreens"

Bonnie Andersen – Wyoming
Crazy Woman Creek: "Making Room for Jesus and Buddha"

Ara Anderson – Wyoming
Woven On the Wind: "Strung on Sinew"

Anonymous – pseudonym, no state listed
Crazy Woman Creek: "What I Hate Most About You"

Patricia Archie – Wyoming
Leaning Into the Wind: "To Leave This Place"
Woven On the Wind: "Without a Doubt"

Cheryl Arends – Nebraska
Leaning Into the Wind: "Harvest is Subject to the Weather"

Caroline Arlen – Colorado
Crazy Woman Creek: "Posse to the Rescue"

Karen Armstrong – California
Crazy Woman Creek: "The Shearing"

Bess Arnold – Wyoming
Crazy Woman Creek: "Brotherhood of Railroad Workers"
with Pat Ogle – Wyoming

Crystal Sharping Ashley – South Dakota
Leaning Into the Wind: "Cows on the Loose"

Sue Austin – Idaho & Texas
Leaning Into the Wind: "Land and Bones"
Woven On the Wind: "The Field Road"
with Laurie Kutchins – Virginia

back to alphabet

Charlotte Babcock – Wyoming
Woven On the Wind: "The Path" & "Letters to Lil"
Crazy Woman Creek: "A World Apart"

Julene Bair – Wyoming
Leaning Into the Wind: "A Guy Could"
Woven On the Wind: "At Forty-five"

June Frankland Baker – Washington
Woven On the Wind: "June and I, Singing"

Lucille Cress Baker – Wyoming
Leaning Into the Wind: "A Night Ride"

Denise Banker – Nebraska
Crazy Woman Creek: "Surviving at Great Cost"

Robin Barkley – Arizona
Crazy Woman Creek: "Mine Shack Memories"

Margaret Barnhart – North Dakota
Leaning Into the Wind: "Ghosts"

Jeanne M. Bartak – Nebraska
Leaning Into the Wind: "My Choice"

Bette-B Bauer – Nebraska
Crazy Woman Creek: "Quilting a Dissertation"

May H. Baughman – Colorado - Deceased
Woven On the Wind: "Stella He"

Cindy Bellinger – New Mexico
Woven On the Wind: "To Smooth a Mountain"

Virginia Bennett – California
Leaning Into the Wind: "The Dead Yearling"
Woven On the Wind: "Tapestry of Knots"
Crazy Woman Creek: "Object of Affection"

Margaret M. Benshoof-Holler – California
Crazy Woman Creek: "Banding Together in San Francisco"

Francie Berg – North Dakota
Leaning Into the Wind: "Meadowlark"

Danny Bergin – South Dakota
Crazy Woman Creek: "Celebrating Mass in a Nightgown"

Karen M. Berry – Arizona
Woven On the Wind: "Gram's Vegetables"
Crazy Woman Creek: "Stitching My Life Project"

Hilary Barton Billman – Wyoming
Woven On the Wind: "How the West was Won"
Crazy Woman Creek: "Bingo Babes"

Doris Bircham – Saskatchewan, Canada
Woven On the Wind: "The Waiting"
Crazy Woman Creek: "Gifts from our Hands and Hearts"

Virginia M. Blackford – Colorado
Leaning Into the Wind: "Majestic Range"

Viola Hay Blair – South Dakota – Deceased
Leaning Into the Wind: "Remembering the Depression Years"

Maureen Helms Blake – South Dakota
Woven On the Wind: "To Breathe on my Own"
Crazy Woman Creek: "A Light Shawl on a Cool Night"

Susanne K. Bloomfield – see Susanne K. George-Bloomfield

Shirley Blunt – Montana
Leaning Into the Wind: "The Women's Club"

Willo Boe – Nebraska
Crazy Woman Creek: "The Non-Musicals Sing Their Last Song"

Sharon Boehmer – Nebraska
Leaning Into the Wind: "Four-Holer"

Carol Boies – South Dakota
Leaning Into the Wind: "Like Grandma"
Woven On the Wind: "The Wedding Shower"

Emily Boies – South Dakota
Woven On the Wind: "What Makes Our Lives"

Linda Boyden – Hawaii
Woven On the Wind: "Whatever Works"

Ethel Goudy Briggs – Montana – Deceased
Leaning Into the Wind: "I Don't Mind Milking"
with Donna Gray – Montana

Leslie I. Brown – Utah
Crazy Woman Creek: "The Elegance of White Things"

Sharon Bryant – Wyoming
Woven On the Wind: "Dear Berry"

Mavis Bucholz – North Dakota
Leaning Into the Wind: "Ranger and Me"

B. J. Buckley – Montana
Leaning Into the Wind: "Mad Alyce as St. Therese" & "Mending Fence"
Woven On the Wind: "A Man's Work" & "The Woman Listening on the Party Line"
Crazy Woman Creek: "Superior Laundry, Sheridan, Wyoming" & "Funeral Meats"

Stephanie Pershing Buehler – Wyoming
Woven On the Wind: "Sisters"

Eva Potts Wells Burton – Wyoming
Leaning Into the Wind: "Daughter Becomes a Cattlewoman"
Woven On the Wind: "Without a Doubt"

Laurie Wagner Buyer – Colorado
Leaning Into the Wind: "Hanging in Balance"
Woven On the Wind: "There Were No Women"

back to alphabet

Maureen Cain – Arizona
Woven On the Wind: "Car Pool Friendship"

Maura Callahan – Washington
Woven On the Wind: "Pilgrimage"
Crazy Woman Creek: "How Do I Thank. . .?"

Elizabeth Canfield – Wyoming
Leaning Into the Wind: "For the Grandchildren" & "The Informer"
Woven On the Wind: "Living without Loneliness"

Cleo Cantlon – North Dakota
Woven On the Wind: "The Heart Knows"
Crazy Woman Creek: "The Woman Who Didn't Fit In"

Deb Carpenter – Nebraska
Leaning Into the Wind: "They're Easy to Kill"
Woven On the Wind: "Love and Light"

Margaret Carr – Wyoming – Deceased
Leaning Into the Wind: "Tree Limb Checkers and Mustard Plasters"

Betty Starks Case – Wyoming
Leaning Into the Wind: "Tractor Tales"

Virginia Cassells – Nebraska
Leaning Into the Wind: "Sandhill Ranch Memories" & "Women's Work"
Crazy Woman Creek: "The Hobo Mark Swooshed"

Sue Chaulk – Nebraska
Leaning Into the Wind: "The Ranch" & "Grave Gear" & "Returning the Favor" & "Matinee"

Anne Fantaci Clement – Montana
Woven On the Wind: "The Reclamation"
Crazy Woman Creek: "Too Busy to be Church Ladies"

Ashley Coats – Montana
Crazy Woman Creek: "Women in Pickups"

Beth Hathaway Cole – Wyoming
Leaning Into the Wind: "Side by Side"

Gaydell Collier – Wyoming
Leaning Into the Wind: "Wyoming Bound"
Woven On the Wind: "Knowing with the Heart"
Crazy Woman Creek: "AfterWord"

Shelly Whitman Colony – Oregon
Woven On the Wind: "Common Ground"
Crazy Woman Creek: "Feeding the Spirit"

Geraldine Connolly – Montana
Crazy Woman Creek: "Electric Avenue Books"

Rian Connors – pseudonym, no state listed
Woven On the Wind: "Full Monty"

Heidi R. Cousins – Montana
Woven On the Wind: "Old Ladies Go Hunting"

Bertie Robbins Cox – Wyoming
Leaning Into the Wind: "Dirty Dishes"

Stacy Gillett Coyle – Colorado
Crazy Woman Creek: "United Methodist Fellowship"

Linda Crandall – Nebraska
Leaning Into the Wind: "The Homestead"

Roberta Z. Crouse – Wyoming
Leaning Into the Wind: "If I Had This Ranch, I'd. . ."

Cindy French Curtis – Colorado
Leaning Into the Wind: "Child of the Land"

Nancy Curtis – Wyoming
Leaning Into the Wind: "Cowmoms"
Woven On the Wind: "La-vin-i-a"
Crazy Woman Creek: "Checkup, Checkout"

back to alphabet

Lyn Dalebout – Wyoming
Leaning Into the Wind: "Presence of Mind"

Ruth Daniels – Oklahoma
Crazy Woman Creek: "Old Woman with a Mind"

Lou Dean – Colorado
Crazy Woman Creek: "Echoes on the Wind"

Patti DeJonge – Deceased
Leaning Into the Wind: "For the Farmer's Wife"

Lyn DeNaeyer – Nebraska
Woven On the Wind: "A Woman's Place" & "Resurrections"

Donna Williams Dereemer – Wyoming
Leaning Into the Wind: "The Day the Uncles Bought the New Truck"

Kelly Rebecca Dereemer – Deceased
Leaning Into the Wind: "Wild Cows"

Saundra J. DeRemer – Nebraska
Woven On the Wind: "Summer Friends"

Kalli Deschamps – Montana
Leaning Into the Wind: "What's in a Smell?"

Dixie DeTuerk – Nebraska
Leaning Into the Wind: "The Great Bull Roundup"

Beulah Donnell – South Dakota
Leaning Into the Wind: "Prayer and Fudge"

Marilyn Dorf – Nebraska
Crazy Woman Creek: "What It Took"

Betty Downs – South Dakota
Woven On the Wind: "Learning How to be Lonely"
Crazy Woman Creek: "Tuesday Tea"

Sister Hildegard Dubnick, OSB – Colorado
Woven On the Wind: "Holy Ground"
Crazy Woman Creek: "A Couple of Nights Before Christmas"

Mary Duffy – see Mary Garrigan

Carolyn Dufurrena – Nevada
Woven On the Wind: "Ghost of April, 1978"
Crazy Woman Creek: "Nevada Firestorm" & "Woman Sculpted of Stones"

Phyllis Dugan – Wyoming
Crazy Woman Creek: "Far-Flung Neighbors"

Norma Nelson Duppler – North Dakota
Leaning Into the Wind: "Adjustments"
Woven On the Wind: "Secret Sin"
Crazy Woman Creek: "When the World Split"

Penny Dye – South Dakota
Leaning Into the Wind: "Woman Vet"

Shannon Dyer – Colorado
Leaning Into the Wind: "The Auction"
Woven On the Wind: "Girls' Night Out"
Crazy Woman Creek: "Wolf Pack in the School District"

back to alphabet

Sophie Dominik Echeverria – Wyoming
Woven On the Wind: "My Mother's Moccasins"
Crazy Woman Creek: "The Far Side of Maple Street"

Robyn Eden – Nebraska
Leaning Into the Wind: "Living on the Edge"

Faye Eggert – Wyoming - Deceased
Crazy Woman Creek: "More Alike than Different"

Marie Ellenberger – Colorado
Leaning Into the Wind: "Just like a Woman"

Jacqueline S. Elliott – Colorado
Leaning Into the Wind: "From Short Ears to Long Ears"

Louise Engelstad – South Dakota
Woven On the Wind: "Reclaiming Mother's World"

Barbara Engle – Wyoming
Crazy Woman Creek: "A Good Thing To Do"

Genevieve Eppich – Colorado
Leaning Into the Wind: "Elk Make me Boil"

Kelly Madigan Erlandson – Nebraska
Crazy Woman Creek: "You Always Start With a Baptism"

Cora Esch – Nebraska
Leaning Into the Wind: "Horse Trader's Daughter"

back to alphabet

Patricia (Midge) Farmer – Wyoming
Leaning Into the Wind: "Transplanted" & "Learning the Bum Lamb Business"

Goose E. Fedders – New Mexico
Crazy Woman Creek: "Speak, Throw Up, or Die"

Mary Peace Finley – Colorado
Woven On the Wind: "Rosario"

Frances Burjes Fitch – South Dakota
Leaning Into the Wind: "I've Been There, and I'm Still There"

Maureen Tolman Flannery – Illinois
Woven On the Wind: "Before She Left"

Rhae Foster – Wyoming
Leaning Into the Wind: "Curley" & "Hometown"

Terrill Foster – Wyoming
Leaning Into the Wind: "Lady of the Night"

Jeannie Fox – Minnesota
Woven On the Wind: "Twinkle Little Star"

Sharon Frank – see Sharon Graham-Ellis

Cindy French – see Cindy French Curtis

Toni Kim French – Nebraska
Leaning Into the Wind: "They Still Make Country Schoolteachers"

Pat Frolander – Wyoming
Woven On the Wind: "Sisterhood"
Crazy Woman Creek: "I Suppose It Was the Food"

Evelyn I. Funda – Utah
Crazy Woman Creek: "Belongings"

back to alphabet

Katherine Mann Galey – Nebraska
Crazy Woman Creek: "Stretching Friendship"

Eleanore Garreau – South Dakota
Leaning Into the Wind: "Place Called Home"

Mary Garrigan – South Dakota
Leaning Into the Wind: "A Farmer's Grandchild"
Woven On the Wind: "The Concubine"

Susanne K. George-Bloomfield – Nebraska
Leaning Into the Wind: "Birth" & "Poster Girl" & "Exploring the Plains"

Beth Gibbons-Ayres – Nebraska
Leaning Into the Wind: "Alone"

Tammy Hansen Gilbert – see Tammy Hansen Snell

June Brander Gilman – Montana
Leaning Into the Wind: "Horses I Claimed"

Colette (Koko) Knutson Gjermundson – North Dakota
Woven On the Wind: "Friends Because"
Crazy Woman Creek: "Simply, Soul Soup"

Peggy Cook Godfrey – Colorado
Leaning Into the Wind: "Sing!" & "The Real Question"

Jean Goedicke – Wyoming
Leaning Into the Wind: "Range Wars on the Playground"

Lydia Gonzales – Kansas
Crazy Woman Creek: "La Mujer y Su Cultura"

Ann L. Gorzalka – Wyoming
Leaning Into the Wind: "Legacy of Strength"

Kathleen Gotschall – Nebraska
Crazy Woman Creek: "Rodeo Moms"

Tena Cook Gould – Nebraska
Leaning Into the Wind: "Heartbreak of a 4-H Beef"
Woven On the Wind: "The Night"

Janet E. Graebner – Colorado
Woven On the Wind: "Melissa"
Crazy Woman Creek: "Silent Renewal"

Sharon Graham-Ellis – Colorado
Leaning Into the Wind: "Dearest Little One"

Donna Gray – Montana
Leaning Into the Wind: "I Don't Mind Milking"
with Ethyl Goudy Briggs – Montana – Deceased
Leaning Into the Wind: "Frog Diapers"
with Urma DeLong Taylor –
Woven On the Wind: "Huddled for Warmth"

Jennifer Green – Colorado
Woven On the Wind: "Saying Goodbye to 'Nali'"

Laurie M. Greig – Washington
Crazy Woman Creek: "Colorado Ritual"

Laura Hawkins Grevel – Austria, Europe
Woven On the Wind: "Dear Quilting Sisters"
Crazy Woman Creek: "Leaving Sad Town"

Jennifer Graf Groneberg – Montana
Woven On the Wind: "Handwork"
Crazy Woman Creek: "Tupperware Therapy"

Mary Alice Gunderson – Wyoming
Leaning Into the Wind: "Black and White"
Woven On the Wind: "Leah, Bright and Dark"

Sharon Gustafson – South Dakota
Leaning Into the Wind: "waiting"

back to alphabet

Mary Hadley – Wyoming
Woven On the Wind: "No Room for Strangers"

Vee Hageman – Wyoming
Woven On the Wind: "Majesty"

Lori Hale – Colorado
Leaning Into the Wind: "Nancy, Heaven-Sent"

Vivian Hamburg – Colorado
Leaning Into the Wind: "Just One Dress" & "Gambling"

Candy Hamilton – South Dakota
Woven On the Wind: "Women in the Rain"

Kathy Hanks – Kansas
Woven On the Wind: "Hog Wars"

Marvelle Hansen – Nebraska
Leaning Into the Wind: "Memories of a Cow Wrangler"

Twyla Hansen – Nebraska
Leaning Into the Wind: "Planting Trees" & "Instinct" & "Wind" & "Snow Crazy"
Woven On the Wind: "At the Prairie, the Day Before"
Crazy Woman Creek: "At the Greasy Spoon"

Evelyn Hard – Montana
Leaning Into the Wind: "Evelyn's Garden Bug Spray" & "How Not to Sit in the Shade"

Mary Harman – Wyoming
Woven On the Wind: "Some Things Never Change"

A. J. Harnish – Wyoming
Crazy Woman Creek: "Well—You Told Me To"

Ruth Harper – South Dakota
Crazy Woman Creek: "Vagina Dialogues on the Road Trip"

Lois Hart – South Dakota
Woven On the Wind: "Muskrat Ramble"

Sue Hartman – Colorado
Woven On the Wind: "Anneen"
Crazy Woman Creek: "Choir Practice at the Bongo Lounge"

Donna Britton Harvey – Wyoming
Woven On the Wind: "Don't Step in the Cactus"

Melissa Green Harvey – Texas
Crazy Woman Creek: "Wonderbra Soldiers"

Linda M. Hasselstrom – South Dakota
Leaning Into the Wind: "Intro: Grass Widows & Wrinklebelly Women"
Woven On the Wind: "Six Artists at a Country Retreat"
Crazy Woman Creek: "Intro: Beyond Crazy Woman Creek"

Vanessa Hastings – Wyoming
Woven On the Wind: "Cultivating the Iris, Dawn of Change"

Mary Alice Haug – South Dakota
Crazy Woman Creek: "Tapestry Woven of Stories"

Mary Ann Haugen – North Dakota
Leaning Into the Wind: "Unconditional Guarantee"

Celeste Havener – Wyoming
Crazy Woman Creek: "Patchwork for Baby"

Edna Mae Link Hehner – Deceased
Leaning Into the Wind: "Feeding Cows"

Lisa Heldke – Minnesota
Crazy Woman Creek: "Perching"

Lee Helvey – Wyoming
Leaning Into the Wind: "New York vs. Kirby"

Marilyn Henderson – North Dakota
Leaning Into the Wind: "Year of the Grasshoppers"

Terry Henderson – Wyoming
Leaning Into the Wind: "Ranch Widow"

Helen Moore Henry – Nebraska
Leaning Into the Wind: "Milkweed Silk"

Marcia Hensley – Wyoming
Crazy Woman Creek: "I Like It That Way"

A. Rose Hill – Wyoming
Leaning Into the Wind: "Chokecherry Jelly"
Woven On the Wind: "The Gift" & "Barefooting Summer"

Mae Hoffer – North Dakota
Leaning Into the Wind: "Never a Gold-Digger"

Joan Hoffman – Nebraska
Leaning Into the Wind: "Home on the Range"

Ida Hohm – South Dakota
Leaning Into the Wind: "Dear Anna, My Great-Granddaughter"

Yvonne Hollenbeck – South Dakota
Crazy Woman Creek: "Rejuvenating the Clearfield Hall and Me"

Bertha Holsinger – Deceased
Leaning Into the Wind: "All for a Box of Crayons"

Emilie Hoppe – Iowa
Crazy Woman Creek: "Things I Would Not Miss"

Joyce B. Hunsaker – Utah
Woven On the Wind: "Something of the Earth"

Deck Hunter – Wyoming
Leaning Into the Wind: "Wilderness Ranger"

Kathy Hunter – Oregon
Crazy Woman Creek: "Warm Hearts, Cold Reality"

Christina Hutchins – California
Crazy Woman Creek: "In a Time of War"

Jennie Hutton – Montana
Leaning Into the Wind: "Gifts from the Heart"

back to alphabet

Maxine Bridgman Isackson – Nebraska
Leaning Into the Wind: "Nothing Worthwhile Is Easy"

Janeen Jackson – Montana
Leaning Into the Wind: "Country Seedling"

Maeann B. Jasa – Nebraska
Leaning Into the Wind: "Tractor Travels"

Barbara Jessing – Nebraska
Leaning Into the Wind: "Given Away"
Crazy Woman Creek: "The Spite and Malice Sewing Circle"

Carolyn Johnsen – Nebraska
Leaning Into the Wind: "Not to Farm" & "Baling Wire"

Margaret Eaton Johnson – Wyoming
Crazy Woman Creek: "Endurance in Harmony"

Judy Ann – Wyoming
Crazy Woman Creek: "Savoring the Circle"

back to alphabet

Jean Keezer-Clayton – Nebraska
Leaning Into the Wind: "The Last Coyote Hunt"

Audrey Keith – North Dakota
Leaning Into the Wind: "Spring Calving" & "Going Home"

Kathryn Kelley – Nebraska
Leaning Into the Wind: "Witching Saint Anthony's Well"
Woven On the Wind: "That's What Neighbors Do"
Crazy Woman Creek: "September 12, 2001"

Diane Kesey – Oregon
Crazy Woman Creek: "Waiting to Dance"

Dianne Rood Kiesz – South Dakota
Leaning Into the Wind: "Morrill County Soddy: 1990" & "Passage"
Woven On the Wind: "Time for Friendship"

Nancy Kile – South Dakota
Crazy Woman Creek: "Grab Your Shawls, Girls!"

Jane Kirkpatrick – Oregon
Crazy Woman Creek: "To Dance With Grace"

Rachel Klippenstein – Oregon
Leaning Into the Wind: "The Sale"

Norma Thorstad Knapp – Minnesota
Crazy Woman Creek: "The Logging Bee"

Sandra Knox – Colorado
Leaning Into the Wind: "Maybe"

Jackie Pugh Kogan – California
Crazy Woman Creek: "Desert Filament"

Bernie Koller – South Dakota
Leaning Into the Wind: "Mulberries"
Woven On the Wind: "Lessons Learned by Hand"
Crazy Woman Creek: "Concerning My Hutterite Cousins"

Kay E. Konz – Nebraska
Crazy Woman Creek: "Where They Know My Name"

Diana Allen Kouris – Wyoming
Leaning Into the Wind: "Headlong into the Storm"

Rose Kremers – Wyoming
Leaning Into the Wind: "Leaning into the Wind"

Norma Kulas – Michigan
Woven On the Wind: "End of the World"
with Sandie Nicolai – North Dakota

Laurie Kutchins – Virginia
Leaning Into the Wind: "Weather"
Woven On the Wind: "The Field Road"
with Sue Austin – Idaho & Texas

Grace E. Reimers Kyhn – Nebraska
Leaning Into the Wind: "Building the Straw Shed"
Crazy Woman Creek: "The Caring Cleveland Club"

back to alphabet

Page Lambert – Wyoming
Leaning Into the Wind: "Redy's Foal"
Woven On the Wind: "Backbeat"
Crazy Woman Creek: "One Word at a Time"

Sue Leever – Colorado
Woven On the Wind: "Pink Iron Nails"

Phyllis Letellier – Wyoming
Leaning Into the Wind: "Night Lambing" & "Tested Rules for Ranching"
Woven On the Wind: "Whistling Girls and Knitting"
Crazy Woman Creek: "Your Sister's Keeper"

Delcie Light – North Dakota
Leaning Into the Wind: "March Communion" & "Janus Was a Two-Faced God"

Shirley D. Lilley – Wyoming
Leaning Into the Wind: "Storm at Chimney Rock Ranch"

Darcy Lipp-Acord – Wyoming
Woven On the Wind: "Dear Ann"
Crazy Woman Creek: "Path to a Small World"

Robin Littlefield – Washington
Woven On the Wind: "The Art of Living the Moment"

Tammi Littrel – Nebraska
Leaning Into the Wind: "The Surrogate" & "Closet Animal Rightest"

Patty Litzel – see Patty Zeigler

Mary Lode – Montana
Crazy Woman Creek: "Alone, Not Lonely"

Anita Lorentzen-Wells – Nebraska
Leaning Into the Wind: "Irrigating with Grandpa" & "Runt"

Barbara Love – Wyoming
Leaning Into the Wind: "A Place of My Own"

Betty L. Lye – Wyoming
Leaning Into the Wind: "Saying Goodbye"

back to alphabet

Dorothy Blackcrow Mack – Oregon
Woven On the Wind: "Belonging to the Black Crows"
Crazy Woman Creek: "I Bring You the Gift of My Dying" & "Crone Circle: Grandmothers Giving Wisdom"

Freya Manfred – Minnesota
Leaning Into the Wind: "Grass"

Claudia F. Manz – Colorado
Crazy Woman Creek: "We Four"

Janelle Masters – North Dakota
Leaning Into the Wind: "Display Grounds"
Woven On the Wind: "Of Potatoes and Wind"

B. Lynne McCarthy – Missouri
Crazy Woman Creek: "Have Cattle, Will Travel"

Susann McCarthy – New Mexico
Woven On the Wind: "The Company of Women"

Helen Applegarth McConnell – New Mexico
Woven On the Wind: "Goldie"

Noreen McConnell – Colorado
Leaning Into the Wind: "American Dream on an Elk Ranch"

Elizabeth Keough McDonald – New Mexico
Crazy Woman Creek: "The Ramah Farmer's Market"

Jane McGarry – Colorado
Crazy Woman Creek: "Wood Ash on the Wind"

Donna Applegarth Mentink – Nebraska
Woven On the Wind: "Come Home"
Crazy Woman Creek: "Pickin' Chickens"

Lyn Messersmith – see Lyn DeNaeyer

Phyllis Luman Metal – California – Deceased
Leaning Into the Wind: "I Carry the Ranch Inside Me" & "Abortion 1925"

Lucy C. Meyring – Colorado
Leaning Into the Wind: "Ranching—in My Blood"

Rosalee M. Mickelsen – Nebraska
Leaning Into the Wind: "Surviving the Farm Crisis"

Edna Miller – Colorado
Leaning Into the Wind: "Designated Turkey Herder"

Joyce M. Miller – Wyoming
Leaning Into the Wind: "Morning Window"

Karen N. Miller – South Dakota
Woven On the Wind: "Capes"

Susan Kay Minyard – West Virginia
Woven On the Wind: "word"
Crazy Woman Creek: "Watch the Big House Burn" & "On Watermelon and Stout Roads"

Diane Molleson – Washington
Crazy Woman Creek: "Picking Peaches"

Kay Moon – New Mexico
Leaning Into the Wind: "Return to Elk Mountain"

Lois Jean Moore – Nebraska
Leaning Into the Wind: "Porky's Hard Labor" & "Teacher Rode a Mule"
Woven On the Wind: "Sybil Harris"

Wanda Douglas Morgan – New Mexico
Woven On the Wind: "Friends for Life"

Sue A. Morrell – South Dakota
Leaning Into the Wind: "Of Seed Catalogs and Spirituality"

Candy Vyvey Moulton – Wyoming
Leaning Into the Wind: "Threads of Change"

Lorrie Mydland – South Dakota – Deceased
Woven On the Wind: "Beverly"

back to alphabet

Florence Newsom – North Dakota
Leaning Into the Wind: "They Cleaned Us Out"

Sandie Nicolai – North Dakota
Woven On the Wind: "End of the World"
with Norma J. Kulas – Michigan

Donna Niederwerder – South Dakota
Leaning Into the Wind: "Hollyhock Seeds"

Bonnie R. Nordberg – Montana
Leaning Into the Wind: "Fueling the Fire"

back to alphabet

Nellie O'Brien – Missouri
Leaning Into the Wind: "The Muskrat Trapper"

Karen Obrigewitch – Montana
Leaning Into the Wind: "Growing up Free" & "Place-Bound"
Woven On the Wind: "Who Else"

Pam Ochsner – South Dakota
Leaning Into the Wind: "frustration"
Woven On the Wind: "Vi and Me"

Pat Ogle – Wyoming
Crazy Woman Creek: "Brotherhood of Railroad Workers"
with Bess Arnold – Wyoming

Claudette Ortiz – Wyoming
Woven On the Wind: "Co-madres"

Laura M. Osadchy – Deceased
Leaning Into the Wind: "Call Me Doc"

Elaine M. Oster – Colorado
Leaning Into the Wind: "Farmwife with an Attitude"

Linda Oyama – Montana
Leaning Into the Wind: "Mountain Made"

back to alphabet

Stephanie Painter – Wyoming
Woven On the Wind: "Trinity"

Ginny Jack Palumbo – Wyoming
Woven On the Wind: "Elvira"

Elsie Pankowski – Montana
Leaning Into the Wind: "The Home Place"

Thomasina Parker – Nebraska
Leaning Into the Wind: "Corn Cob Cuisine"

Donna Parks – South Dakota
Leaning Into the Wind: "From a Meditation"
Woven On the Wind: "Spider Beside Her"

Dixie Partridge – Washington
Crazy Woman Creek: "Cliff Dwellings: Mesa Verde"

Caroline Patterson – Montana
Woven On the Wind: "Preserving"

Beth Paulson – Colorado
Crazy Woman Creek: "A Square of Winter Light"

Katy Paynich – Montana
Woven On the Wind: "Defying Bare Branches"
Crazy Woman Creek: "After Moving Away from 610"

Diane Josephy Peavey – Idaho
Woven On the Wind: "Coming Home"
Crazy Woman Creek: "Watch Where You Step"

Cynthia Pederson – Missouri
Crazy Woman Creek: "A Haunting Experience"

LoRee Peery – Nebraska
Crazy Woman Creek: "Ongoing Sustenance"

Garnet Perman – South Dakota
Leaning Into the Wind: "Evolution of a Country Woman"

Marian D. Peters – South Dakota
Leaning Into the Wind: "Circa 1992, New Salem, North Dakota"
Crazy Woman Creek: "At the Line Dance Café"

Gwen Petersen – Montana
Leaning Into the Wind: "The Legacy"
Woven On the Wind: "The Shell Game"

Norma F. Plant – Colorado
Leaning Into the Wind: "April Blizzard"

Thelma Poirier – Saskatchewan, Canada
Woven On the Wind: "chokecherries" & "wild roses"

Kay Marie Porterfield – Colorado
Woven On the Wind: "The Legacy"
Crazy Woman Creek: "Beadwork"

Jann H. Potter – Montana
Leaning Into the Wind: "A Ranch Woman's Week"

Joan L. Potts – Nebraska
Leaning Into the Wind: "Harvest Season Is a Tense Time"

Kim Potts – Montana
Crazy Woman Creek: "Shelter for Each Other"

Rose Potulny – North Dakota
Leaning Into the Wind: "Broomstick Therapy"

Cindy L. Prater – Nebraska
Leaning Into the Wind: "Eccentricities & Earthly Remains"
Woven On the Wind: "Aunt Noi"

C. J. Prince – Colorado
Leaning Into the Wind: "Bill, the Comeback Kid"

Kayne Pyatt – Wyoming
Crazy Woman Creek: "The Drumbeat Continues"

back to alphabet

Olive Raben – Nebraska
Leaning Into the Wind: "The Winter That Was"

Linda M. Race – Colorado
Leaning Into the Wind: "Markers"

Pamela Ramsey – Colorado
Crazy Woman Creek: "Soakers Unite"

Diane Raptosh – Idaho
Woven On the Wind: "The Rapture" & "Matrimony"

June Willson Read – North Carolina
Leaning Into the Wind: "Running Water Ranch"

Lucy Rebenitsch – North Dakota
Leaning Into the Wind: "College on Twenty Dollars"

Candi Red Cloud – South Dakota
Woven On the Wind: "How I Became my own Woman"

Ella Schlater Reichart – Nebraska
Leaning Into the Wind: "Making Do"

Lora K. Reiter – Kansas
Woven On the Wind: "She was Writing"
Crazy Woman Creek: "Weeders, All"

Florence F. Renfrow – North Dakota – Deceased
Leaning Into the Wind: "One Day on the Farm"

Mary Renstrom – Colorado
Crazy Woman Creek: "Casserole Culture in Highlands Ranch"

Georgia Rice – Wyoming
Woven On the Wind: "Tea for Two"

Sarah Byrn Rickman – Ohio
Crazy Woman Creek: "Fifty Years of Potluck"

Barbara Rinehardt – Washington
Woven On the Wind: "Divas for a Day"

Jan Rippel – South Dakota
Leaning Into the Wind: "Daddy and Ditch the Water"

Shelly Ritthaler – Wyoming
Leaning Into the Wind: "High Plains Bride"

Gail Rixen – Minnesota
Leaning Into the Wind: "Contentment" & "Why I Build Things"
Crazy Woman Creek: "No Treasure in Bismarck"

Jeanne Rogers – Wyoming
Leaning Into the Wind: "Ninety Degrees and Rising"
Woven On the Wind: "Community of Stones"
Crazy Woman Creek: "Re-entry: Homeward Bound"

Tamara E. Rogers – South Dakota
Crazy Woman Creek: "Right Place, Wrong Time"

Gretchen Ronnow – Nebraska
Crazy Woman Creek: "Old Woman's Domain"

Lee Ann Roripaugh – South Dakota
Woven On the Wind: "Pearls" & "Oyurushi: Forgiveness"

Wanda Rosseland – Montana
Woven On the Wind: "Because Men Rule"
Crazy Woman Creek: "Straightforward and Unafraid"

Echo Roy – Wyoming
Woven On the Wind: "Prairie Ocean"

Nancy Heyl Ruskowsky – Wyoming
Leaning Into the Wind: "The Seventh Direction of Night"

Janis Russell-Wilson – Missouri
Crazy Woman Creek: "Concert of Energy" & "Forecasting the Future of Food"

Kathleen Rutledge – Nebraska
Crazy Woman Creek: "Women of the Journal Star"

Edith Rylander – Minnesota
Crazy Woman Creek: "Ghost Dance II"

back to alphabet

Marjorie Saiser – Nebraska
Leaning Into the Wind: "Making Noodles"
Woven On the Wind: "My Old Aunts Play Canasta in a Snowstorm"
Crazy Woman Creek: "The Living, The Warm"

Peggy Sanders – South Dakota
Woven On the Wind: "If. . . "

Auriel J. Sandstead – Colorado
Leaning Into the Wind: "Postwar"

Mary Lou Sanelli – Washington
Woven On the Wind: "Marriage" & "Trying to Remember She Is Now a Man"
Crazy Woman Creek: "Standing in Line at Aldrich's Grocery"

Michelle M. Sauer – North Dakota
Crazy Woman Creek: "Feeling North Dakota and Looking California"

Bobbie Saunders – Colorado
Leaning Into the Wind: "February Evening"

Meghan Nuttall Sayres – Washington
Crazy Woman Creek: "Where the River Bends"

Terry Lee Schifferns – Nebraska
Leaning Into the Wind: "Is this Work?"

Mary E. Schnell – South Dakota
Woven On the Wind: "Let the Circle be Unbroken"

Fay Schrater – Massachusetts
Woven On the Wind: "Dormant Seeds Sprouting"

Ruth Schubarth – Colorado
Leaning Into the Wind: "Born Backwards"

Pearle Henriksen Schultz – Wyoming
Woven On the Wind: "Barbed Wire and Robert Frost"
Crazy Woman Creek: "Sonnet for My Grandchild"

Gin Scott – Wyoming
Woven On the Wind: "Shifting Gears"

Gael Seed – pseudonym – no state listed
Woven On the Wind: "Barriers of Silence"

Dawn Senior-Trask – Wyoming
Leaning Into the Wind: "Never Alone"
Woven On the Wind: "Wyoming Mother"
Crazy Woman Creek: "Convergence of Horse-Crazy Women"

Sherry Shillenn – Wyoming
Woven On the Wind: "Dear Judy"

Liesel Shineberg – Wyoming
Crazy Woman Creek: "Liesel, You're a Good Christian"

Lee Ann Siebken – Wyoming
Woven On the Wind: "The Storm"

Marlaine Slaaen – North Dakota
Leaning Into the Wind: "Saturday Night"

Anne Slade – Saskatchewan, Canada
Woven On the Wind: "Tea with Daphne"

Linda Slater – Colorado
Leaning Into the Wind: "Porch-Sitting Passion"

Barbara M. Smith – Wyoming
Leaning Into the Wind: "Transplant" & "It's Good to Have"
Woven On the Wind: "Ladies Aid"
Crazy Woman Creek: "Boomtown, Babies, and Strawberry Pie"

Clara Smith – South Dakota
Leaning Into the Wind: "Spring's Promise"

Consuelo N. Smith – Wyoming
Crazy Woman Creek: "Tortilla Round"

Jeannie P. Smith – Nevada
Crazy Woman Creek: "Valley Essential: Gladys Smith"

Margaret E. Smith – Nebraska
Leaning Into the Wind: "A Horse Named Concussion"

Tammy Hansen Snell – Nebraska
Leaning Into the Wind: "You Live Where?" & "Ranch Communications"

Mary Sojourner – Arizona
Crazy Woman Creek: "Slot Mamas"

Jonita Sommers – Wyoming
Leaning Into the Wind: "The Ups and Downs of Driving"

Morgan Songi – Oregon
Leaning Into the Wind: "Stormy Weather"

Jennifer Kayl Soule – South Dakota
Crazy Woman Creek: "Banana Bread And Coffee"

Bonnie Larson Staiger – North Dakota
Leaning Into the Wind: "Varmint Eradication" & "A Sense of Place"
Woven On the Wind: "Cycles"

Judith McConnell Steele – Idaho
Woven On the Wind: "The Women"

Cora Steffes – Montana
Leaning Into the Wind: "Storming Whole Hog"

Louise Steneck – Colorado
Leaning Into the Wind: "The Handmaiden" & "Sleeping with Pigs"
Woven On the Wind: "Circled in Shadows"

Melinda Stiles – Idaho
Woven On the Wind: "Her Soul Lives Here"

Mary Kathryn Stillwell – Nebraska
Leaning Into the Wind: "Winter Song" & "January 4, 1991"
Crazy Woman Creek: "The Circle Dance"

Dierdre Stoelzle – Wyoming
Leaning Into the Wind: "The Curtsy"

Linda L. Knouse Stotts – Missouri
Leaning Into the Wind: "Essence of the Ranch"

Jody Strand – Montana
Leaning Into the Wind: "The Only Thing We Will Not Do Is Give Up"
Woven On the Wind: "Maybe Slower Is Better"

Jo-Ann Swanson – Montana
Woven On the Wind: "The Oddest Daughter" & "Alva in the Fields"
Crazy Woman Creek: "Our Ladies of the Farm"

Jean McKenzie Sweem – Wyoming
Leaning Into the Wind: "1936"

Peggy Symonds – Wyoming
Leaning Into the Wind: "Dear Daughter"

back to alphabet

ShaunAnne Tangney – North Dakota
Crazy Woman Creek: "The Hippie Central Library Fest"

Anita Tanner – Colorado
Leaning Into the Wind: "Ancestry of Cows" & "Butchered: A Cattle Song"
Crazy Woman Creek: "Run Toward Suffering"

Urma DeLong Taylor –
Leaning Into the Wind: "Frog Diapers"
with Donna Gray – Montana

Sandra Gail Teichmann – Texas
Woven On the Wind: "Light"

Nedalyn Testolin – Wyoming
Woven On the Wind: "Sky, Grass, Rain and Sage"

Eileen Thiel – Oregon
Woven On the Wind: "Resolving Mrs. Wackerly"

Martha Thompson – Wyoming - Deceased
Leaning Into the Wind: "A New Life On a Dry Farm"

Janie Tippett – Oregon
Crazy Woman Creek: "Rhino Rump, Chicken Palace, and Kindness"

Julia Tobias – Colorado – Deceased
Leaning Into the Wind: "Justice"

Dianna Torson – South Dakota
Leaning Into the Wind: "Miss Top Cat" & "Kirsty Ann's Mule"
Woven On the Wind: "Joan"

Sureva Towler – Kansas & Colorado
Woven On the Wind: "Up Fortification Creek"
Crazy Woman Creek: "No One Baked Cookies" & "I'm Afraid I Can't Attend the Next Meeting"

Margaret Trautman – North Dakota
Leaning Into the Wind: "Mother Left a Lamp Burning" & "And the Grass-hoppers Came"

Elaine Traweek – Montana
Leaning Into the Wind: "Dear Grandma"

Rosemerry Wahtola Trommer – Colorado
Crazy Woman Creek: "Why We Still Sing When Other Choirs Dissolved"

back to alphabet

Juanita Urbach – Deceased
Leaning Into the Wind: "Love and Christmas"

Christine Valentine – Montana
Crazy Woman Creek: "Down Gravel Roads"

Toni Vance – South Dakota
Leaning Into the Wind: "The Dangers of Meeting Horse Trailers on Gravel"

Gloria VanDyke – North Dakota
Leaning Into the Wind: "My Man Isn't"

Marilyn J. Van Well – Colorado
Leaning Into the Wind: "My Dear Grandchildren"

Ellen Vayo – Wyoming
Woven On the Wind: "Lupe's Song" & "Granma's Gloves"
Crazy Woman Creek: "Cowgirl Up, Cupcakes"

Linda Velder – South Dakota
Leaning Into the Wind: "Dear Tomboy"

Jean Vertefeuille-Cutler – Colorado
Crazy Woman Creek: "Champagne Toast at Midnight"

Janice Vierk – Nebraska
Leaning Into the Wind: "Noon Prayer"

Rosalie Vigil – Wyoming
Leaning Into the Wind: "Arnold Pig"

Lillian Vilborg – Manitoba, Canada
Woven On the Wind: "Sigga"

Susan Vittitow – Wyoming
Woven On the Wind: "Jean"

Ann Kostenko Vontz – Wyoming
Leaning Into the Wind: "From the Ukraine to the Plains"

Mary Lynn Vosen – Montana
Leaning Into the Wind: "Winter Crouches, Waiting" & "Rotten Squash in the Cellar"

Sheila Vosen-Shorten – Montana
Woven On the Wind: "Pearls from the Milk"
Crazy Woman Creek: "Communion of Saints"

back to alphabet

Donna Walberg – South Dakota
Leaning Into the Wind: "Our Onaka Ordeal"

Phyllis Walker – Montana
Crazy Woman Creek: "Plant Sale Grows Roots"

Barbara Wallace – Oregon
Crazy Woman Creek: "Dealing Uno and Life"

Rebecca Wampler – Wyoming – Deceased
Leaning Into the Wind: "Old Ponies" & "Dark Billowing Flowers"

Tracy Wang – South Dakota
Crazy Woman Creek: "From Canton to Spearfish"

Trudy Z. Wardwell – Colorado
Leaning Into the Wind: "Why I Didn't Write" & "Come Next Branding"

Ellen Waterston – Oregon
Woven On the Wind: "Spun Sugar"
Crazy Woman Creek: "Anaconda Copper Dreams"

Helen M. Wayman – Montana
Crazy Woman Creek: "Hallelujah! Faith Circle!"

Tina Welling – Wyoming
Woven On the Wind: "Passage"

Patricia Wellingham-Jones – California
Crazy Woman Creek: "One Panel of a Quilt"

Jane Wells – Wyoming
Woven On the Wind: "My Heart Still Grins"
Crazy Woman Creek: "Comments From the Crow's-Nest"

Erla K. Werner – North Dakota
Leaning Into the Wind: "First-Name Relationships"

Kathleene West – New Mexico
Leaning Into the Wind: "Martin Luther's Children"
Woven On the Wind: "Thinking of Rain in the Dry Season"

Nellie Westerskow – South Dakota
Leaning Into the Wind: "From Arctic Splendor to Sunset Mountain"

Agnes Wich – Colorado
Leaning Into the Wind: "Voices in the Wind"
Woven On the Wind: "Letter to a 'Friend'"

Joanne Wilke – Montana
Leaning Into the Wind: "Geese" & "Marking Territory"
Crazy Woman Creek: "Cindergals Never Looked Back"

Ruby R. Wilson – South Dakota
Woven On the Wind: "Mother Love"
Crazy Woman Creek: "Room For a Small House"

Arlys Winkler – North Dakota
Leaning Into the Wind: "Outhouse of Memories"

Shelagh Wisdom – Wyoming
Leaning Into the Wind: "Magic and Miracles"

Marianne Hoffman Woeppel – Nebraska
Crazy Woman Creek: "Popcorn in the ER"

Jane Elkington Wohl – Wyoming
Leaning Into the Wind: "At Fort Phil Kearney"
Woven On the Wind: "Daily Acts of Courage" & "Below Zero—December"

Katherine Wood – Colorado
Leaning Into the Wind: "Plains Preponderance"

Lucy L. Woodward – Wyoming
Woven On the Wind: "The Lady Who Knew How to Live"

Carole Workman-Allen – Colorado
Leaning Into the Wind: "Passion's Climate"

Cheryl Anderson Wright – Wyoming
Woven On the Wind: "Homemade Noodles"
Crazy Woman Creek: "The Brown Sofa"

Patty Zeigler – South Dakota
Leaning Into the Wind: "Gifts from the Sky"
Crazy Woman Creek: "Bound"

Mary Zelinka – Oregon
Crazy Woman Creek: "Never Silent Again"

back to alphabet

back to top


---
Contributors Appearing in All Three Books:

Sixteen contributors have work appearing in all three anthologies.

Note that the state given with each name is the state where the writer is currently residing, not necessarily where the story or poem took place.


Virginia Bennett – California
Leaning Into the Wind: "The Dead Yearling"
Woven On the Wind: "Tapestry of Knots"
Crazy Woman Creek: "Object of Affection"

B. J. Buckley – Montana
Leaning Into the Wind: "Mad Alyce as St. Therese" & "Mending Fence"
Woven On the Wind: "A Man's Work" & "The Woman Listening on the Party Line"
Crazy Woman Creek: "Superior Laundry, Sheridan, Wyoming" & "Funeral Meats"

Gaydell Collier – Wyoming
Leaning Into the Wind: "Wyoming Bound"
Woven On the Wind: "Knowing with the Heart"
Crazy Woman Creek: "AfterWord"

Nancy Curtis – Wyoming
Leaning Into the Wind: "Cowmoms"
Woven On the Wind: "La-vin-i-a"
Crazy Woman Creek: "Checkup, Checkout"

Norma Nelson Duppler – North Dakota
Leaning Into the Wind: "Adjustments"
Woven On the Wind: "Secret Sin"
Crazy Woman Creek: "When the World Split"

Shannon Dyer – Colorado
Leaning Into the Wind: "The Auction"
Woven On the Wind: "Girls' Night Out"
Crazy Woman Creek: "Wolf Pack in the School District"

Twyla Hansen – Nebraska
Leaning Into the Wind: "Planting Trees" & "Instinct" & "Wind" & "Snow Crazy"
Woven On the Wind: "At the Prairie, the Day Before"
Crazy Woman Creek: "At the Greasy Spoon"

Linda M. Hasselstrom – South Dakota
Leaning Into the Wind: "Intro: Grass Widows & Wrinklebelly Women"
Woven On the Wind: "Six Artists at a Country Retreat"
Crazy Woman Creek: "Intro: Beyond Crazy Woman Creek"

Kathryn Kelley – Nebraska
Leaning Into the Wind: "Witching Saint Anthony's Well"
Woven On the Wind: "That's What Neighbors Do"
Crazy Woman Creek: "September 12, 2001"

Bernie Koller – South Dakota
Leaning Into the Wind: "Mulberries"
Woven On the Wind: "Lessons Learned by Hand"
Crazy Woman Creek: "Concerning My Hutterite Cousins"

Page Lambert – Wyoming
Leaning Into the Wind: "Redy's Foal"
Woven On the Wind: "Backbeat"
Crazy Woman Creek: "One Word at a Time"

Phyllis Letellier – Wyoming
Leaning Into the Wind: "Night Lambing" & "Tested Rules for Ranching"
Woven On the Wind: "Whistling Girls and Knitting"
Crazy Woman Creek: "Your Sister's Keeper"

Jeanne Rogers – Wyoming
Leaning Into the Wind: "Ninety Degrees and Rising"
Woven On the Wind: "Community of Stones"
Crazy Woman Creek: "Re-entry: Homeward Bound"

Marjorie Saiser – Nebraska
Leaning Into the Wind: "Making Noodles"
Woven On the Wind: "My Old Aunts Play Canasta in a Snowstorm"
Crazy Woman Creek: "The Living, The Warm"

Dawn Senior-Trask – Wyoming
Leaning Into the Wind: "Never Alone"
Woven On the Wind: "Wyoming Mother"
Crazy Woman Creek: "Convergence of Horse-Crazy Women"

Barbara M. Smith – Wyoming
Leaning Into the Wind: "Transplant" & "It's Good to Have"
Woven On the Wind: "Ladies Aid"
Crazy Woman Creek: "Boomtown, Babies, and Strawberry Pie"


Back to top


---
Lost and Strayed:

If you are one of these women, or if you know their whereabouts, please get in touch with us so that we can notify these contributors of Wind Anthology news, events and any publisher queries to reprint their work elsewhere. Thank you.


Mavis Bucholz -- North Dakota?

Genevieve Eppich -- Colorado?

June Brander Gilman -- Montana?

Sharon (Frank) Graham-Ellis -- Colorado?

Vivian Hamburg -- Colorado?

Diane Kesey -- Oregon?

Rachel Klippenstein -- Oregon?

Noreen McConnell -- Colorado?

Judith McConnell Steele -- Idaho?

Janice Vierk -- Nebraska?

Aryls Winkler -- North Dakota?



back to top



---