Dakota: Bones, Grass, SkyCollected and New Poems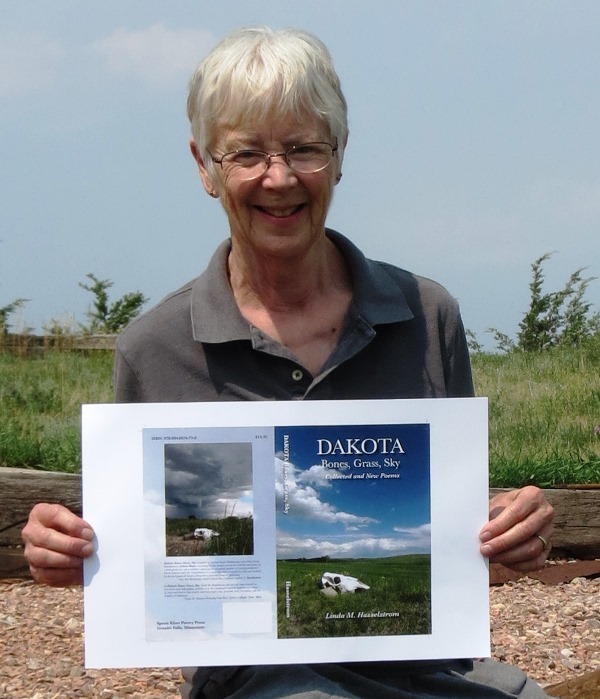 All About the Book

Dakota: Bones, Grass, Sky --- Collected and New Poems -- published 2017


What's Here?

About This Book
Brief information about the contents, publication details, and ordering information.

Reviews and Blurbs
What do others say about this book?

Questions About the Book
Linda explains the title and whether she decided to revise any of the older poems reprinted in the book. Learn the story behind the photos on the front and back covers. Which stories, events, and themes are revisited throughout the collection?

Table of Contents
What new poems are included in this collection and in what order? How can you browse through these titles and not want to read the poems to find out who, what, where, and why?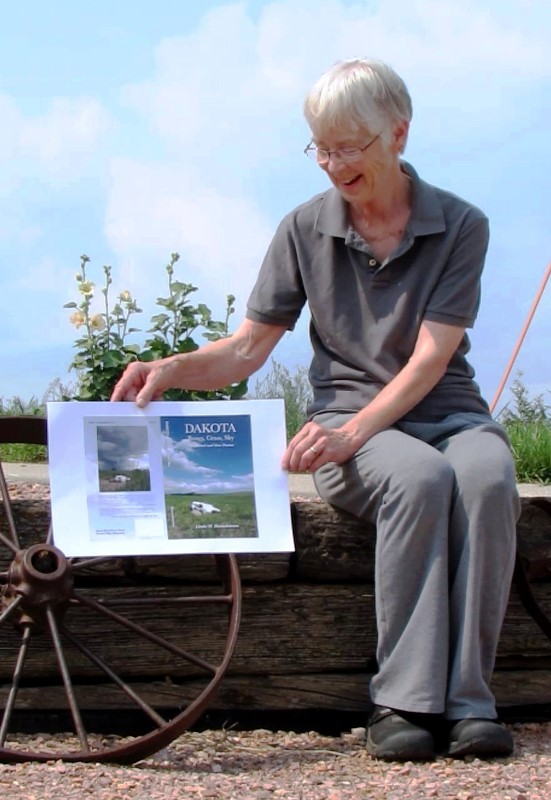 About This Book

Dakota: Bones, Grass, Sky – Collected and New Poems
Spoon River Poetry Press, 2017

The original edition of Dakota Bones: The Collected Poems of Linda Hasselstrom was published by Spoon River Poetry Press in 1993. This new and expanded edition contains all of the original poems, plus 50 new.

From the preface to Dakota: Bones, Grass, Sky
The new poems in this book are an accumulation of poems from many years. I published 50 new poems in Dirt Songs: A Plains Duet with Twyla M. Hansen, now Nebraska's Poet Laureate, in 2011. Some of these poems predate those; some were published in periodicals but have not previously appeared in book form. Looking at the list of titles, you'll note that there are fads in poetry as in everything else. In some seasons and cultures, long titles are appropriate; in others, brevity is the key.


240 pages; size 5.5 x 8.5
ISBN: 978-0944024-72-0
$14.95 -- paperback

You may purchase a signed copy from me for $14.95 plus $4 shipping

Linda M. Hasselstrom
PO Box 169
Hermosa, South Dakota 57744

Bad to the Bone
Unfortunately, soon after sending out review copies of Dakota: Bones, Grass, Sky, we noted several design flaws in the book embarrassing enough to warrant reprinting. The publisher is correcting and reprinting the book as quickly as possible. If you order this book, we will keep your order, and fulfill it as soon as the new copies are available. This process may take a couple of months, so we ask you to be patient. Our apologies and thanks.


back to top
---


Reviews and Comments


--- John Dofflemyer, Dry Crik Press
Grounded in the echoes of old days and harsh ways, Hasselstrom makes the mundane shine and the ordinary brilliantly rich and real with her stark resilience and persevering heart. Her poetry will always matter!


--- Lee Ann Roripaugh, South Dakota Poet Laureate, Author of Dandarians
Dakota: Bones, Grass, Sky, a reprint of beloved South Dakota poet and writer Linda Hasselstrom's Dakota Bones, including 50 new poems, reveals the breadth and scope of a keen poetic eye and sensibility, capturing the quotidian rhythms of multigenerational South Dakota ranch life. As a retrospective of sorts, this volume demonstrates the enduring beauty and grit of Hasselstrom's art—peppered by a sprinkling of wry wit, and culminating in a series of lyric and meditative narratives that create a colorful patchwork quilt assembled from memories and details of rural South Dakota life. Hasselstrom's is a muscular music sculpted by wind and marked by the percussion of hooves, rising into a powerful choir of plainsong.


--- Twyla M. Hansen, Nebraska State Poet, Author of Rock • Tree • Bird
In Dakota: Bones, Grass, Sky, Linda M. Hasselstrom gifts us with vision rooted on the wind-swept high plains, reminds us of the connection between humans and nature in clear-eyed poems that wrestle with fear, regret, loss, gratitude, love, friendship, and the fragility of happiness. Her writing transcends into the extraordinary by paying close attention to her surroundings, appreciating its beauty, and affirming "this solid world/ beneath my feet."


--- C. B., an astute reader from Vermillion, South Dakota.
Your poems tell stories that speak beyond your own self. That is why so many readers respond to them. Your personal details, the accurate "facts" matter. The specific grounds your poems.
---
Dakota: Bones, Grass, Sky -- Collected and New Poems
Table of Contents

Half-Title Page (page i)

Other Books by Linda M. Hasselstrom (ii)

Title Page (page iii)

Copyright Page with Dedication (page iv)

Table of Contents (page v)

Author's Preface: 1993 (page xi)

Author's Preface: 2017 (page xiii)

I

Quote by Georgia O'Keefe on bones (page 1)

Staying in One Place (page 3)
Bone (4)
Spring (5)
Mulch (6)
Deer (7)
Seasons in South Dakota (8)
Grandmother (10)
Memorial Day (11)
When My Father Waters His Trees (12)
Digging Potatoes (13)
Blackbirds (14)
The Poet Falls in Love with a Cowboy (16)


II

Rankin Ridge: Only an Ancient Moon (page 19)
Walking Fence (20)
This Year (21)
Turtle Dance (22)
Nude: 1976 (23)
Sky Ranch: Coming Back (24)
Shooting Prairie Dogs (25)
Posing (26)
Poem for N'de, Too Late (27)
Leaving Fargo: April (28)
In the Dashboard Glow (29)
Uncle (30)


III

Midnight in Missouri (page 33)
Homesteading in Dakota (34)
Haying: A Four-Part Definition (36)
Hospital Talk (38)
Exits (39)
Lamp Lighting (40)
Cyllene (41)
Telegram Announcing the Death of My Father (42)
John Neihardt (43)
Dreaming of the Goddess (44)
This Is (45)
The Buffalo at Midnight (46)


IV

Elegy on a Dead Cow (page 49)
Hands (50)
Scrubbing Parsnips in January (52)
Calving Time (53)
Butchering the Crippled Heifer (54)
Planting Peas (56)
Hang Gliding (57)
One April Day (58)
The Last Word (59)
Saying Goodbye (60)
Helicopter Crash (61)
Settlers (62)
Milliron Ranch (63)
Apologies to Frost's Neighbors (64)
Medicine Rock Rodeo (65)
Coring Apples (66)
Drying Onions (67)
Happy Birthday (68)
How to Find Me (70)
Seven Lessons on the Grass (72)


V

Roadkills and the I Ching (page 75)
Driving into a Storm (77)
Down the Highway: Your Tax Dollars at Work (78)
Interstate 90 (80)
For Pat, Who Wasn't Home (81)
Why I'm Wearing Red Lipstick (82)
Showering with a Grapefruit Rind (83)
I Followed You (84)
Flying Over the Badlands (85)
Trans-World Airlines (86)
Sky Ranch: The Poet Leaving (88)
The Blind Corral (89)
Advice to Jockeys and Others (90)
She Drives a Pickup Wearing Pink Shoes (91)
Tapestry (92)
Not Flying Alone (93)
Letter Home (94)


VI

First Night Alone on the Ranch (page 97)
Fahrenheit (98)
Up at Sunrise (99)
Clara: In the Post Office (100)
Handbook to Ranching (101)
Rancher Roulette (102)
Ralph Jones: On Borrowing (104)
Auction (105)
Alice Johnson: Matriarch (106)
New Year's Eve After Leaving My Husband (107)
Before I Met You (108)
Now I Know Grouse (109)
Child's Play (110)
Priorities: 1898, Upper Yukon (111)
MacDuff: A Scot in the Country (114)
Fourteen (115)
Tomboy (116)
Hannah: Dying in the Hospital (119)
Goodbye (120)


VII

Wind (page 123)
You Loved Those City Lights (124)
Shearing: Wyoming (126)
Calvin (127)
Hunter's Moon Madness (128)
Behind Roughlock Falls (129)
Walking the Dog (130)
Waiting (132)
Driving to Chadron, Listening to the News (133)
Following a Cabin Cruiser in a Blizzard (134)
The New Hope City Bank (136)
Visit to Huntington (138)


VIII

Drowning (page 141)
Standing Stones: Loch Stemster (142)
Dear Suzan (144)
Dawn, After Hearing William Stafford (145)
At the Poetry Festival (146)
The Successful Writer (148)
This Poem You're Thinking About Writing (149)
Missing the Chance (150)
The Iron Pool at Ojo Caliente (151)
Ironwood Trees: A Painting (152)
The House with Three Blue Windows (154)
This World, and the Last (155)
Traveling Poem (156)


IX

The Application Requires a Ten-Word Biography
To Our High School Teacher
Six Months Later at Sky Ranch
Spider Story
Ways to Walk in the Snow
Report on the Poet's Day
Deluxe in Redfield, South Dakota
At the History Conference
Solstice Ice Storm
Speed Warning
Ballooning
The Perfect Fit
She Comes to Every Reading
Migraine
On Warren Avenue in March
We Marched
After the Flu
April Fool
Resolution: 2011
The People's Nuyorican & Cowboy Poetry Slam Poem:
A Free Verse Ode of Celebration, Cerebration and Concantenation
March 10
Edna
We're Sixty-Eight
Pasque Poem


X

Keeping An Eye Out
Lost and Found
How to Prepare Green Beans
Considering Chin Hairs Again
Letter From the Nursing Home
Buffalo Dreaming
Broken Glass
The Barn Doors
In This Town You're Still Alive
Hymn for the Winter Solstice
Preparing for Winter in October
Strawberries and Champagne
South Dakota Prayer Cloths
The Heron Dines in Traffic
Walking: The Changes
Coyote Song
February Sunday
Learning About Gates
Vacation House
Are You Sure?
The Plainsman's Pines
Putting Things Away Never Ends
Every Morning
Where I'm From

Epilogue:
After the Rain, I See Her Walking


Alphabetical List of Titles

About the Author

Acknowledgements


# # #


back to top


---