Bitter Creek Junction All About the Book
About the Book


The West found in these poems is neither the mythical Old West nor the New West of ranchettes and trophy homes. Whether "Making Chokecherry Jam" joined by spirits of departed grandmothers; rethinking a thirty year old vow in "The Empty Highway, The Unwritten Poem;" seeing the humor in an "International Incident" at a prairie dog town; or confronting the darkness, violence and abuse lingering in "Bitter Creek Junction" and elsewhere, Linda's aria is set to the rhythms of the authentic West, laced with lyrical realism, and distilled to the sharp crispness of a plains morning.


Please note: This book is also available on audiocassette, read by the author; see below.


Bitter Creek Junction

Poetry, Published 2000 by High Plains Press

$12.95 – paperback with full color jacket
ISBN 0-931271-53-3
72 pages; size: 6 X 9

$30.00 – hardcover limited edition
ISBN 0-931271-54
212 signed, numbered copies; no jacket.
72 pages; size: 6.25 X 9.25


Order Books from:

High Plains Press
P.O. Box 123
Glendo WY 82213
phone: (307) 735-4370
or (800) 552-7819
Fax: (307) 735-4590
website: www.highplainspress.com


back to top


---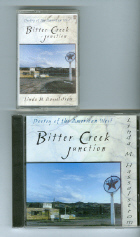 about the Audio-Book


Hear Linda's interpretation of her own poetry.

The entire text of the book read by the author;
color insert with table of contents.

Cassette tape is FREE with any book purchase
FREE if you pay the shipping.
Just ask us.

Sorry, the CD is sold out.


No ISBN number

cassette size: 2.75 X 4.25
cd size: 4.75 X 5.5


back to top


---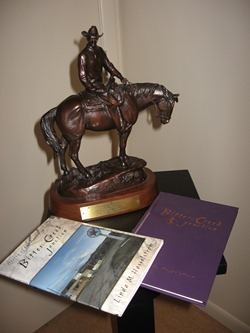 Honors and Awards


National Cowboy & Western Heritage Museum --- 2001 Western Heritage award for Best Poetry Book.


Bitter Creek Junction, published in 2000 by High Plains Press of Glendo, Wyoming, won a Wrangler for best poetry book for 2001 from the National Cowboy & Western Heritage Museum, Oklahoma City, OK.

Since 1961, the National Cowboy & Western Heritage Museum (formerly known as the Cowboy Hall of Fame) has presented "Western Heritage Awards" to honor and encourage the legacy of those whose works in literature, music, film, and television reflect the significant stories of the American West. Each honoree receives a Wrangler, an impressive bronze sculpture of a cowboy on horseback.


For more information:

www.nationalcowboymuseum.org
National Cowboy & Western Heritage Museum
1700 NE 63rd St, Oklahoma City, OK 73111
(405) 478-2250

# # #


Women Writing the West --- Willa Award Finalist, 2001.


Bitter Creek Junction was a 2001 WILLA Award Finalist (runner-up) in the poetry category.

The WILLA Awards, named for Pulitzer Prize-winning western author Willa Cather, represent the best of published literature for women's stories set in the American West, chosen by professional librarians, historians, and university-affiliated educators. Awards are also given in contemporary, original softcover, and historical fiction, scholarly nonfiction, poetry, and children's/young adult fiction and nonfiction.


For more information:

website for Women Writing the West

# # #


Wyoming State Historical Society --- Fine Arts Award, 2000.


Fine Arts Award winner Linda M. Hasselstrom, for her book of poetry, Bitter Creek Junction. Linda was living in Cheyenne, Wyoming at the time.

The Wyoming State Historical Society recognizes individuals and organizations in the field of Wyoming History by an annual awards program. The awards are presented each year at the annual meeting of the Society on the Saturday following Labor Day. The meeting site for 2013 will be announced soon. Nomination forms for the awards are submitted through the local and county chapters of the Society.

The Fine Arts Award is given to individuals or groups to recognize an outstanding accomplishment in the field of fine arts, commercial or non-commercial, with results in the depiction, promotion, recognition or preservation of Wyoming history. Nominations in the fields of painting, sculpture, functional pieces, drama, music, or other artwork will be considered.

In 2000, Linda (nominated by the Platte County Chapter) tied with Colleen Purves, Lander, Wyoming (for the poem "Footprints Along the Oregon Trail") who was nominated by the Fremont County Chapter.


For more information:

See the website for the Wyoming State Historical Society.

# # #


Click here for a webpage about more of Linda's awards and honors.


back to top


---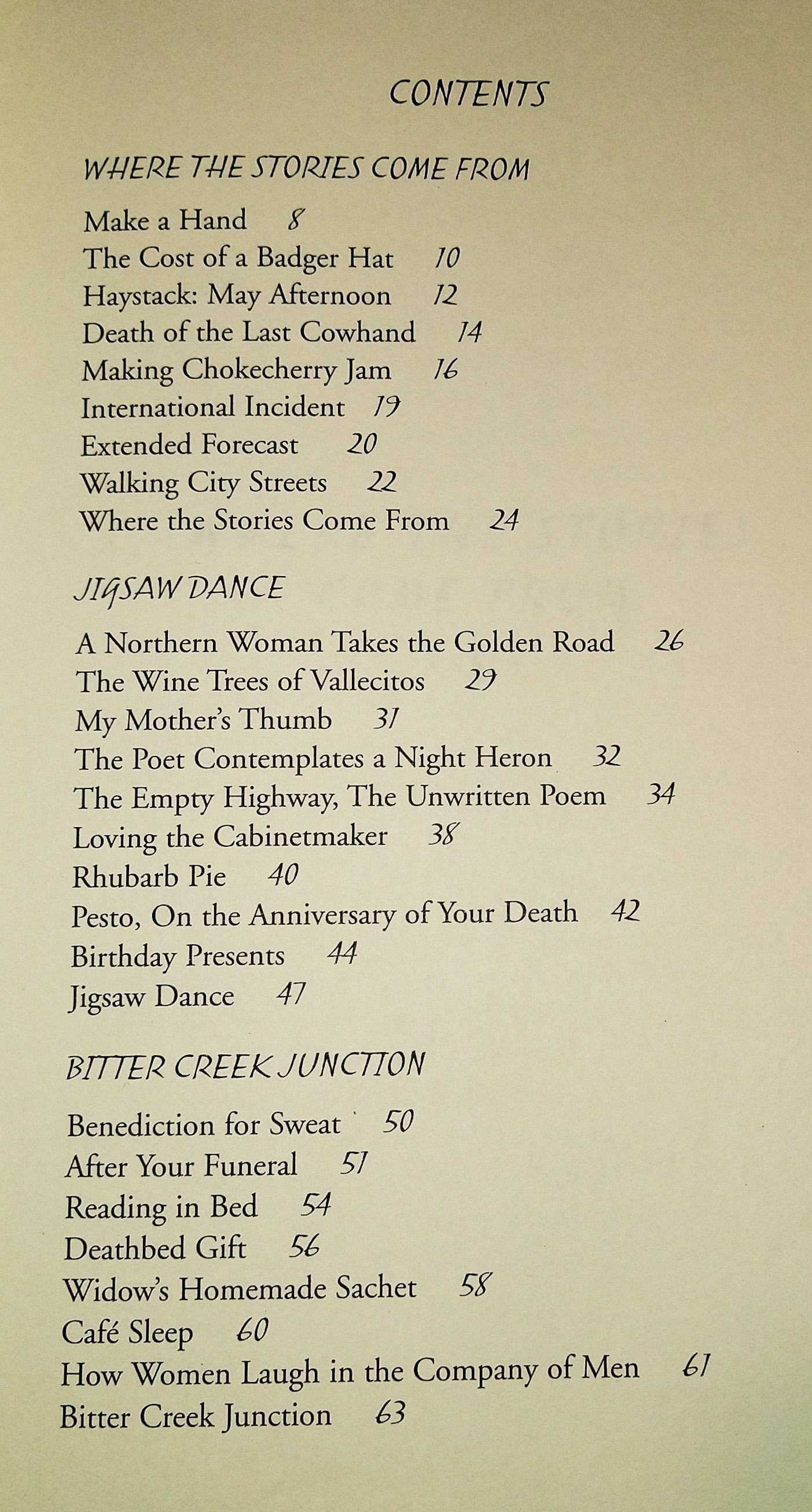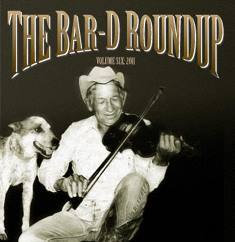 Bitter Creek Junction Poem on a Cowboy Poetry Compilation CD


Cowboy Poetry.com released a cd compilation of cowboy poetry in 2011, entitled The BAR-D Roundup: Volume 6.

Linda reads her poem "Death of the Last Cowhand" for the cd. The poem appears in her book Bitter Creek Junction (published in 2000, by High Plains Press), which is also available on a cd of its own.

A Texas theme runs through The BAR-D Roundup: Volume 6, which includes three generations of McWhorters: a poem by Larry; one of Larry's poems recited by his daughter Abi; and the cover featuring an image of Frankie McWhorter. The cd will also include J.B. Allen's "The Medicine Keepers;" Don Edwards' "The Devil's Hatband;" a recitation of Berta Harte Nance's "Cattle;" the next installment of Buck Ramsey's "Grass," and more of the usual representation of strong examples of the best cowboy poetry.

The majority of the cds produced will go to rural libraries across the West through Cowboy Poetry's outreach Rural Library Project.


For more information:

Sadly the CowboyPoetry website has been discontinued. Perhaps a search on used book websites will find this and other BAR-D Roundup CDs.


back to top


---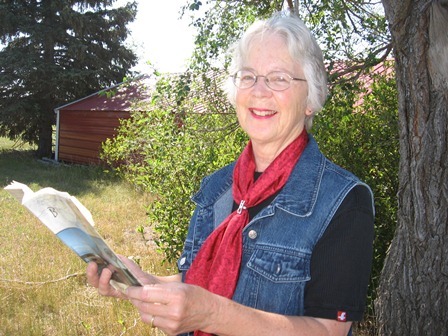 Death of the Last Cowhand

For Hobie Morris, after all this time


I'm pretty sure Tom Blasingame
was dressed at sunrise that December morning
on the Texas plains. Sipped
his coffee hot while Eleanor made breakfast.
Finished off a second cup,
pecked her on the cheek and pulled his hat
down tight. He saddled up the colt,
a three-year-old, and raised a hand as he
rode off. Likely she was watching
from the kitchen window. He headed out
toward Palo Duro Canyon, thinking
how he'd stayed there at the Campbell Creek Camp
nine miles south all week when he
first married Eleanor. She settled down
in town until he got a house
fixed at the ranch.

He figured he could check
the windmill, teach the colt his manners.
Be sure that the sucker rod was holding firm.
The bay colt snorted once or twice,
crow-hopped and mouthed the bit, but nothing out
of line. The sun shone warm on Tom's
lean back but he stayed cagey, minding how
the colt's ears flickered back and forth.
He may have smiled a little, thinking back
to other horses, a lot of other nags.
At ninety-one, he couldn't count
them all but he'd been working on that ranch
nearly sixty years, breaking
horses, chasing cows, doing work
he loved. Hadn't left the place
since he came back from Arizona, nineteen
and thirty-four.

The JA hands
found him just past sunset, stretched out
on the prairie grass, boots on,
hat across his face. The horse stood guard.
Old Tom had not one scratch or bruise.
The hands who found him figured he'd be proud
he wasn't pitched. "Must have known
he was in trouble," said the cattle foreman.
One man headed back to take
the word to Eleanor while others brought
him in. I wonder if they did
it right, slung him over his own saddle
for his last trip home. Or went
and got a pickup. Later Eleanor told
a newsman she had never seen
a bunch of cowboys cry before. They all
sat with her on the porch recalling
Tom, and how he pulled his weight right up
until the end. Every one
agreed that Tom had won the hand, gone out
the way he wanted. A cowboy all
his life, Tom knew, they figured, when he saw
the Horseman coming, who he was.
He would have recognized the silhouette--
the hood he wears, no proper hat.
He'd see the great sharp scythe, and know the horse--
may have rode him years ago.
Know the bay colt couldn't run as fast.
Still, he took his time, dismounting
so he wouldn't scare the colt. Dropped
the reins in case the bay ran off.
He may have met the Horseman on his feet, or lay
down on the sod he never had
to plow. They couldn't tell. But either way,
Tom Blasingame has died the way
he lived and all of us have cause to miss him.

# # #


© 2000, Linda M. Hasselstrom

This poem may not be reprinted or reposted without the author's written permission.


Aftermath

Linda performed this poem at the Western Folklife Center's "National Cowboy Poetry Gathering" in Elko, Nevada in 2005. Here's what happened.


After I did that poem, when I was going into the Stockman's for breakfast the next morning, I met a man-- Eddy Cole, who has a saddle shop in Amarillo-- who complimented me on the poem and then said he has Tom's chaps. When Tom came in to order new chaps, Eddy asked him what he was going to do with the old ones, and Tom said, "Throw 'em away I guess," so Eddy got them and they are hanging in his saddle shop.





He said Tom was not tall-- he held his hand out at a height I'd say was 5 foot or less. He said, "Those Texas Rivers can come up fast, you know, and when most fellas came to the river and had to cross, they'd look both ways, roll a smoke, look both ways again, smoke some more-- Tom would ride up to the edge, look both ways, and ride across without hesitation."





This illustrates one of my favorite things about the gathering: that when you write something down, that's not the end of the story. It can go on and on.





I met Tom's daughter a few years ago, but didn't get her name and address. The Gathering, or really perhaps cowboy poetry, specializes in true stories and therefore real people were involved and can turn up and talk about the story. Even if the stories aren't literally true, they adhere to truth enough to spark reminiscence.





I was so stunned when Tom's daughter spoke to me that I failed to get her address, but I'd love to hear from her and tell her thanks for listening to the poem.


"Death of the Last Cowhand" was published in:

Bitter Creek Junction, High Plains Press, 2000

Western Folklife Center, 2-CD set to celebrate 25th Anniversary of National Cowboy Poetry Gathering, from 2005 performance. Royalties donated to Western Folklife Center. One-time use only of performance only.

Cowboy Poetry.com, cd compilation of cowboy poetry in 2011, entitled The BAR-D Roundup: Volume 6.


For more information:

See CowboyPoetry.com's web page about Linda and this poem. Their website includes a painting of Tom Blasingame.
Sadly, the CowboyPoetry website has been discontinued.
---