Roadside History of South Dakota All About the Book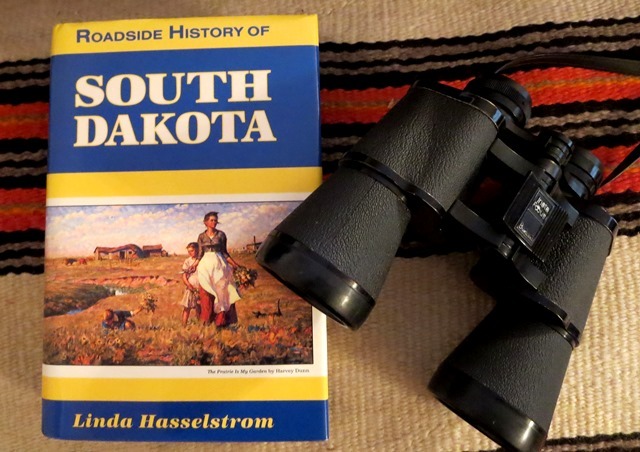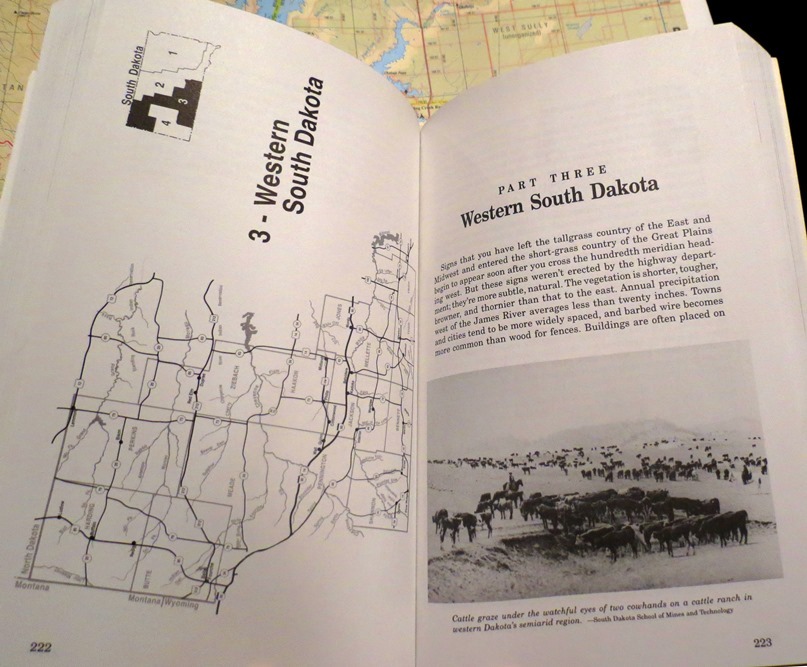 All About the Book: Roadside History of South Dakota


Linda takes readers on a tour across South Dakota's major and minor highways, introducing its towns and characters, both past and present. She also addresses Indian-white relations, the rise of tourism and the plight of twentieth-century agriculture.




Roadside History of South Dakota is part of the Mountain Press "Roadside History" series, which includes books about 14 states in the West, Southwest, Midwest, the Great Plains, and Yellowstone National Park.

From the Mountain Press website about the Roadside History series---
For some, history is a reflection of times past and the actions of those who came before. For others, history provides a link in the chain of human experience, a window through which we see how we got to today from yesterday. The Roadside History series fits both descriptions, charting a course to the present through carefully selected and thoroughly researched stories that relate what we see today with what happened before. Through vivid anecdotes, old photographs, and maps, the Roadside History guides provide entertaining insight into the states they describe. Each state is divided into geographical (and historical) regions, and each region is described in the context of highways that pass through it. This "road log" approach helps place modern travelers in the past.

From the Mountain Press website about Roadside History of South Dakota---
This roadside history helps readers appreciate the roles that fur traders, homesteaders, politicians, ranchers, farmers, and even prairie artists have played in South Dakota's history.

https://mountain-press.com/index.php

back to top


---
The Prairie Is My Garden

The well-known painting-- of the woman and children gathering flowers from the grasslands-- used on the cover of Roadside History of South Dakota is "The Prairie Is My Garden" by Harvey Dunn.

Harvey Dunn was born near Manchester, South Dakota in 1884. In 1901 he entered South Dakota Agricultural College (now called South Dakota State University) in Brookings, but rather promptly moved on to the Chicago Art Institute the following year. After studying under Howard Pyle, a famous illustrator of the time, Dunn moved east and made his living as an illustrator for magazines and books. Though he spent the rest of his life in the east (Delaware and New Jersey), Dunn visited South Dakota in the summers.

According to an article in South Dakota Magazine, no one knows the identities of the people in Harvey Dunn's painting The Prairie Is My Garden.


"We have lots of claims from people who know who it is," says Lynn Verschoor, director of the South Dakota Art Museum in Brookings, where The Prairie is My Garden hangs. "But he [Dunn] was an illustrator. He drew people all the time, with just generic faces."

In fact, very little is known about Dunn's most recognized Dakota landscape. Records are complete enough to show that Edgar Soreng, a member of South Dakota State College's class of 1908 and a friend of Dunn's, donated the work sometime between 1950 and 1970. The scene is likely a combination of Dunn's memories growing up at Manchester in Kingsbury County and later summertime visits home, when he spent countless hours behind the wheel of his car sketching prairie vistas.

---From South Dakota Magazine "Ten Must-See South Dakota Paintings" by John Andrews; August, 2011


Though I was on my own to gather photos for the text of Roadside History of South Dakota-- as described in my essay below, about the writing of this book-- I insisted that my publisher get the rights to use this South Dakotan masterpiece for the cover. The combination of the art with the cheery blue and yellow makes a professional and eye-catching book cover.


# # #

back to top


---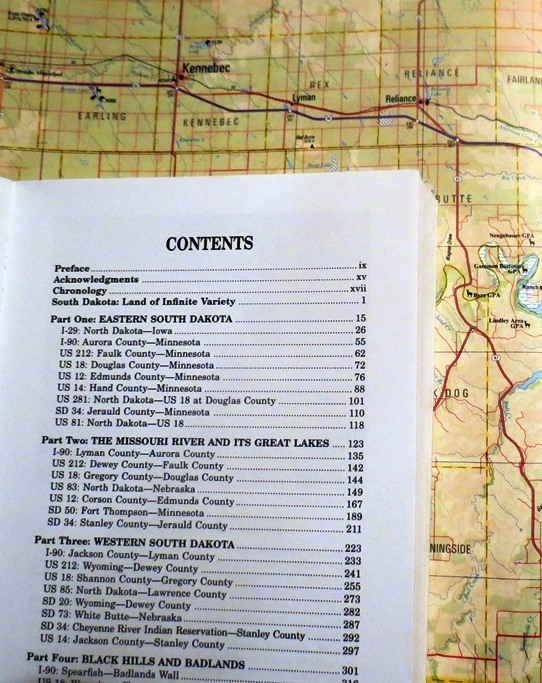 A History of Roadside History

By Linda M. Hasselstrom, 2004


I signed the contract to write Roadside History of South Dakota on February 15, 1988. The first edition of the book appeared from Mountain Press of Missoula, MT, in 1994-- nearly seven years later. In the intervening time, my husband and father both died, I moved from the ranch I loved, and I was fortunate enough to write and publish several other books. The entire story of the creation of this book could fill another book, but it is sufficient to say various aspects of the book have been a source of frustration for years.

I had accepted the contract as a simple money-making project, and I knew considerably less about the publishing business than I know now. I blame myself entirely for the problems, since my motivations for the writing were purely mercenary-- but I've paid for that sin many times over! My husband George R. Snell, warned me that I should not entangle myself in the project.

During this time I also-- reluctantly-- made the change from writing on my old reliable Underwood typewriter to computers. I changed computers twice, lost files, lost research books to thieves, and rewrote the book several times to suit the conflicting visions of two different editors. (For example, the first editor required me to delete all the specific dates and footnotes showing the sources of information, and insert subheads to make the text more readable. The second one required me to delete the subheads, and wanted to know the sources of each historical fact or anecdote. But the press had lost my original manuscript, and in changing computers, I'd lost the original files, so I had to try to recreate much of the research.)

Anecdotes vs. Serious History
In February, 1992, I delivered what I believed to be the final draft of the manuscript, knowing that at nearly 600 pages, it was too long. At that time, I wrote to the editor,


"I see a Roadside History as anecdotal, funny, intriguing, disjointed, filled with bits of history not found in standard works; a book that might inspire a visitor to stop at an unusual place, or to find a more complete history of an event; a book that makes long, flat highways more interesting, that provides a bit of information, laughter, insight, opinion that might create argument. At each rewrite, I have been frustrated by your suggestion that I remove most of that material, replacing it with historical overviews and opinions which I do not feel qualified to make."

I suggested then, and continue to believe, that a reader who wants serious history should read books by South Dakota's many excellent historians. Helpfully, I furnished reading suggestions throughout the book, along with a fat bibliography of additional sources.

Deletions
During the two-year editing process which followed, many segments of the book were deleted; I once threatened to publish an unexpurgated version. My file labeled ROADSIDE OUT contains twelve pages on the fur trade in Dakota; about thirty pages on Lakota culture; three pages on Ben Reifel. Eliminated were chapters of background on the settlement of Dakota Territory, on West River homesteading, on the National Grasslands, on the Sioux Uprising, on South Dakota weather and topography. Gone are Susan B. Anthony and Eva Nichols. Gone: Mrs. Paul Pacquette, Mrs. J. B. Greenway, Mrs. John Stanage, Mrs. Aaron Hammond, Mrs. John Goodwin; Mrs. Charles S. White–none of their first names recorded, of course, since they were considered extensions of their husbands.

Dr. Jenny Murphy, one of the first women to drive a car in Yankton, disappeared, as did stories about pioneers Amun O. Ringsrud, August and Gustav Mittelstaedt, Jim Frederick, Dr. H. J. Churchill, Charlie Streeter, Harvey Fellows, Tim Coleman, Robert Carr, Christine Kunz Boehler, the Young Ladies Guild, the Finnish pioneers near Watertown. I'd analyzed the significant political battles between Clint Roberts and Tom Daschle. Charles Francois Picotte disappeared, except for the information I managed to squeeze into a cutline beside his photo. Sections on modern writers like Elizabeth Cook-Lynn vanished.

Photographs
Photos were another problem. At that time, the directors of state historical collections were charging the usual copying prices of $3 to $7 per photo, but had also added a "publication" charge of $25 each. Photo expenses for a book are usually borne by the author. I'd found 400 photographs I wanted to use in the book; for them I would have had to pay more than $10,000. Since neither I nor my publisher could afford the cost, I wrote letters to state officials, including the governor, in protest. Eventually I borrowed photographs from several other historians' collections. (Some wish to remain anonymous, so thanks again, folks!) One of the most generous was Helen Rezatto, a friend who was regarded as an amateur historian, but whose books are a lot more fun to read than many histories. (The Making of the Two Dakotas; Kill a Man–Start a Cemetery; Tales of the Black Hills.) Few modern photographs appear, because the publisher suggested that I provide them myself, and I couldn't afford to drive around the state taking pictures.

Factual Errors
Some of these errors were originally mine; in some cases, I sent corrections in time for them to be made before the original publication, but somehow that did not happen. In a couple of cases, I failed to note and correct errors inserted by an editor or typographer. And frankly, I was so sick of the book I was not as careful as I might have been.

By that time, George had been dead for several years, but I acknowledged how right he had been to advise me against the time-consuming undertaking; hence the dedication, "To George, who knew better."

In the book's introduction, I looked to the future, saying, "Errors surely exist; if you've never made a mistake, feel free to point mine out. Otherwise, smile smugly, read on, and keep quiet." Nevertheless, I began receiving comments, suggestions, and corrections as soon as the book appeared. I have kept all these in a file, hoping to make changes each time a new edition of the book appears.

Corrections
Advised that a second printing of the book would appear in 1998, I sent an extensive list of corrections and changes to Mountain Press on March 5, 1997. The publishers patiently explained that inserting corrections would require too much typesetting, more proofreading, more editorial costs. If corrections resulted in changes in pagination, the entire book, including the index, would have to be typeset and proofed and printed again. This, I realize now, is often the case with books of this nature. Changes and updates cost too much money, so most publishers prefer to simply reprint from original materials. The changes have never been made.

The book is now in its third edition, but the publisher has not yet been sufficiently inspired by sales profits to reprint an edition which allows for changes and corrections.

Further, my writing and editing on other subjects keep my time fully occupied. While I am still fascinated by South Dakota history, and have a pretty wide-ranging collection of sources, at age 61 I have neither the time nor the inclination to rewrite the book-- even if a publisher wanted me to do so, and it would afford an opportunity to correct every existing error. At the end of my acknowledgments [p. xvi] I thanked my friends for putting up with my complaints about the difficulty of this job, and rhetorically asked, "Aren't you glad it's over?" Little did I know: it may never be over.

# # #

back to top


---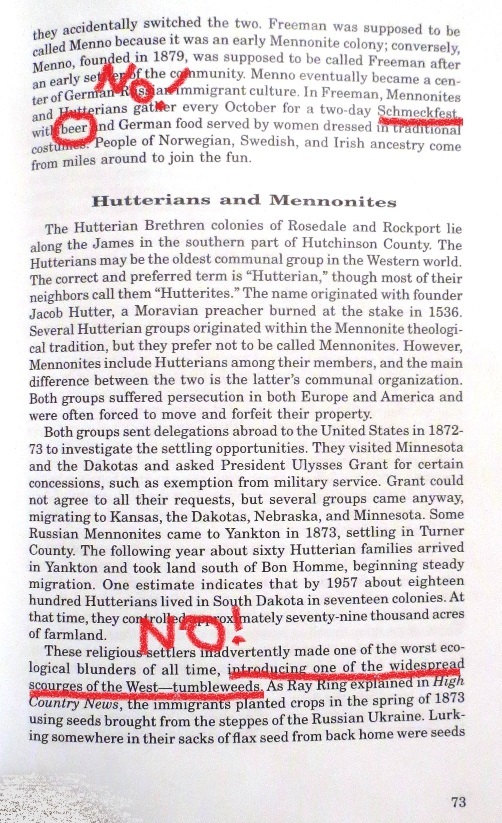 Corrections to Roadside History of South Dakota

By Linda M. Hasselstrom


The Errors:

I've been frustrated for years by the knowledge that many errors exist in the text of this book. So when I met Rachel Rasmussen in Vermillion in December of 2003, and she suggested that I put the corrections on my web site, I was delighted (and embarrassed not to have thought of that solution myself.) Thanks, Rachel.

As the book's author, I feel responsible for the book's errors, and will keep updating this website with corrections.


Find Something Wrong?

Anyone who wishes to suggest changes or corrections
should send them to me at:

Roadside History
Windbreak House
PO Box 169
Hermosa, SD 57744

Or send me an e-mail, using the link in the left-hand column of this website.

Please include your qualifications, that is, explain why you know I erred, and documentation for the correction you are suggesting.

I'll continue to collect corrections in the hope that someday I will see them incorporated into the published book.


The Corrections:

The corrections and additions below are listed in order by page.

P. Xvii: Two (not twenty) million years ago: glacial lakes form in eastern South Dakota

P. 15, l. 3: Two (not twenty) million years ago, masses of ice advanced. . .

P. 21, l. 21; Gayville is east of Yankton, not west

p. 30: John Banvard
More information on John Banvard can be found in "Watertown's John Banvard, Artist and Showman," by Joanita Kant, South Dakota History Vol. 27, Nos. 1 & 2, Spring/Summer 1997, pp. 1-20.

P. 41: Sioux Falls had more than a hundred thousand residents in 1990. It now occupies more than 55 square miles of Minnehaha and Lincoln counties, having more than doubled in size since 1975.

P. 46: By 1985, Augustana college had more than 1800 students (not almost nine hundred).

P. 58, l. 15-16: Boehenen Memorial Museum at Prairie Village contains exhibits . . . (Prairie Village omitted)

Pp. 73–75: A letter from historian Duane Schrag, dated September 18, 1998, outlined my many inadvertent errors in regard to the Hutterites and Mennonites.

First, Mr. Schrag notes that while some Mennonites do drink alcoholic beverages, "The ladies of the Freeman Academy Women's Auxiliary, who put on the feed to raise money for the private Christian school, have never served beer at this function and are offended at the suggestion."

I am heartily sorry to have offended the ladies, many of whom have expressed their outrage to me personally. As with everything in the book, I did have a source for this statement, but it was obviously incorrect.

Alcoholic beverages are NOT served at Schmeckfest!

The festival includes displays and demonstrations of traditional and ethnic handicraft and culinary arts displays, and attendees can buy various delicacies– but no beer.

Mr. Schrag also notes that "the designation "Hutterian" is usually used as an adjective, i.e. "Hutterian groups" as you do two sentences later or as in "Hutterian Brethren" as they officially call themselves. "Hutterites" is generally the accepted noun form."

Also on p. 73, quoting Ray Ring's article in High Country News, I said these settlers inadvertently brought seeds from Russian thistle with their crops, thus introducing it to the new world.

Mr. Schrag notes, "To be sure, the weed undoubtedly was introduced by German-Russians. But Mennonites and Hutterites constituted only 20 percent of the German-Russian immigrants, 80 percent having been Lutheran, Catholic, and Reformed. (Richard Sallet's Russian-German Settlements in the United States.) Since they all settled at the same times regionally, the earliest ones in South Dakota in 1873 and the majority in 1874, there is virtually no way to determine whose seeds included the thistle seed. Very likely more than one group carried the ever-present thistle seed."

Mr. Schrag notes, as I also pointed out, that the likeliest source of this myth was the anti-German hysteria of World War One. I am convinced that Mr. Schrag's logic is correct, Ray Ring's statements notwithstanding, and again, I apologize to the Hutterite and Mennonite communities. Some folks at the time even suggested that the Mennonites deliberately introduced the thistle seed as revenge, but I dismissed that notion. Mr. Schrag adds that "It looks as though people recognized this and generously changed the story to one that has the Mennonites accidentally introducing the seed rather than deliberately." But the fact probably is that the seed was inevitably introduced by many immigrants at the time, and it would be impossible to isolate its source. Again, my apologies are sincere.

Finally, on pp. 74-75, I discuss the abuse the Hutterites suffered during World War I for refusing to bear arms. But as Mr. Schrag notes, "You neglect to relate that two brothers– Michael and John Hofer– died as a result of this abuse at Fort Leavenworth, where they were incarcerated." For more on the abuse to which Hutterites were subjected, see Hutterite CO's During World War I, edited by Patrick Murphy.

P. 75, paragraph 4: Norwegian-born O.E. Rolvaag, author of Giants in the Earth, lived (but was not born) in Canton . . .

P. 88: It's more likely the prehistoric Indians drove the buffalo herd over the clay cliff six hundred years ago, (not six thousand).

P. 115, l. 14: Lawrence Welk was offered an audition by Chan (not Chad) Gurney.

P. 164: In 1997, attempts were being made to privatize several of the state's museums. I sent this replacement for the third paragraph, and the beginning of the fourth:


"Several locations in Pierre, as well as other state towns, house artifacts from the state's history, though administration is subject to change as the state slashes budgets to meet changing economic conditions. The State Agricultural Heritage Museum is located in Brookings, and the Smith-Zimmerman State Museum in Madison. The Soldier's and Sailor's World War Memorial directly across from the state's Capitol building once housed archival collections, but is now home to Military and Veterans' Affairs. The sandstone memorial, built in 1932 to honor those who died in World War I, was placed on the National Register of Historic Places in 1983.

"The South Dakota Historical Resource Center– modern language for "museum"– is in the Cultural Heritage Center. Dedicated at the state's centennial celebration in 1989, this is a unique earth-covered building. . ."

P. 176: Bust of Sitting Bull -- The Rapid City Journal, May 3, 1998, p. C7, says the bust weighs seven tons, not three.

P. 193, paragraph 2: In April, 1873 (not 1872), when the railroad came through, Lieutenant Colonel Custer and his Seventh Cavalry troopers camped in the vicinity of Yankton and Tabor for a time.

P. 201: The information in the cutline below the photograph was furnished by the Yankton County Historical Society. Still, I am reliably informed the photograph, while it is looking east, is not of Third street from the corner of Walnut.

P. 219, paragraph 4: The Crow Creek Indian Reservation occupies half the county, and Episcopal churches in Fort Thompson (not Gann Valley) use hymnals in both English and Lakota.

P. 251, line 4: "he struck a vein of water coming through thick blue shale from the Fox Hills sandstone" (according to Gries's Roadside Geology of South Dakota).

P. 257, line 2: The calcite crystals are unusual, but they are found in other geologic locations.

P. 279: I noted that Old Three Toes was at least twenty years old, but if Charlie Wilson had met him in 1912, he was at least 23. (Of course, it might not have been the same wolf.)

P. 373, paragraph 3: This paragraph – originally written from information supplied by officials of Jewel Cave National Monument– was the cause of acrimonious exchanges between me, Mountain Press, and officials at the cave who threatened to stop selling the book if changes were not made. On March 1, 1997, on the basis of information received from monument officials, I asked Mountain Press to substitute the following for the existing paragraph:


"Jewel Cave, thirteen miles west of Custer, was originally developed as a mine by Frank and Albert Michaud. It might have ended up looking like the Homestake Mining Company's Open Cut in Lead, but wiser heads prevailed, and it was turned into a national monument. Jewel Cave contains spectacular crystals, first mined, then protected for their beauty. Spelunkers Herb and Jan Conn have probably spent more time underground than above it. They've mapped more than fifty miles of new passageways since September, 1959, work that still influences modern cavers conducting surveys and scientific studies. Jewel Cave, at more than 100 miles, now ranks as the fourth longest cave in the world. Some passages are not now and probably never will be open to the public. The Miseries, a ninety-minute half-mile series of passages so narrow it sometimes removes the cavers' jeans, is the only known entrance to regions of the cave still uncharted. If Jewel is connected to Wind Cave, twenty-two miles south of Custer– as some spelunkers believe– the resulting single cave would probably be the longest in the world. Air volume studies lead some researchers to estimate that only five percent of the cave has been explored. Both caves contain unusual and delicate underground formations in sparkling shades of color."

As I noted in my letter at that time, the cave's surveyed length was 77 miles when I did my research–seven years before the book appeared in print. Monument officials wanted me to include the 1997 known length of 108.45 miles, but the corrections were not inserted into the book at that time. Moreover, a story by Paul Higbee in the January/February, 1998, issue of South Dakota Magazine ("Explorers of a World Unseen"), gives the official length as 110 miles. The official length may be longer now, due to ongoing exploration. Check a current source!

I still recommend Herb and Jann Conn's book, The Jewel Cave Adventure: Fifty Miles of Discovery Under South Dakota, published in 1977 by the National Speleological Society. In 1959, Jewel Cave was still considered a small cave, but the Conns received a special use permit from the National Park Service, meaning they could enter the cave to explore at any time as long as they mapped their routes. The two named their finds: Mighty Tight Street, Long Winded Passage, Carnegie Hall, Torture Chamber– logging the cave's 50th mile on December 4, 1973. Read the book– especially if you, like me, can't stand tight, dark places.

P. 443: Hall, Bert L. Roundup Years: Old Muddy to the Black Hills, originally published in Pierre by the State Publishing Company in 1956, was republished in 2000 by the Western South Dakota Buck-a-roos, and reviewed by Larry McMurtry. At that time, 1,000 copies of the 696-page book, first-hand accounts from the men who rode the open range of western South Dakota, were available for $100.

P. 448, index omitted Augustana College, 46

P. 451, index omitted Center for Western Studies, 46

P. 462, index omitted Prairie Village, 58


# # #


back to top


---
Book Reviews


From an Amazon book review by D. C. Werdesheim
The Roadside History of South Dakota is an entertaining, well-written book. At first I read this book as an armchair traveler and enjoyed anecdotes that gave the flavor and essence of South Dakota. Then I drove through the state. The book brought to life the places we passed on the way, and I was able to entertain my children with stories of the people who lived there. Driving roads like I-90 became a historical and cultural experience. I am looking forward to reading other books in the Roadside History series.

++--++--++--++

From Chuck Vollan, Department of History, University of Nebraska-Lincoln
Travelers through South Dakota desiring an engaging discussion of the state's past and present will do well to pack Linda Hasselstrom's Roadside History. The author of several works-both fiction and non-fiction-on South Dakota life, Hasselstrom addresses her subject, not as a historian, but a writer in love with a particular place. Always fascinated by the landscape and people of her home state, she views them with a critical, yet forgiving eye.

Unlike more formal guidebooks, here the author's personality is as central as the landscape. Historical marks and old highways are given their due, but the work is more essentially a conversation about the land, its people, and their past. Hasselstrom openly shares her convictions concerning the environment, women's roles, the treatment of tribal peoples, and similar topics normally omitted in travel guides. An unusually progressive tour of South Dakota's past and present results.

Hasselstrom informs the reader early of her biases. She prefers the rural to the urban, twolane highways to fast moving freeways, and regional myths to documented facts. This does not mean that she ignores the urban or favors tall tales, but that she is most concerned with getting to the heart of the character of the state.

A decidedly non-traditional history, the work is organized into a series of short essays arranged geographically. Hasselstrom first details the history of a region, from before human occupation to the present, noting its general characteristics and its social and political tendencies. She does the same for each town and its local celebrities, successfully balancing a love of the past with an appreciation of the present. She does not limit herself to the South Dakota of the last half of the nineteenth century, but reaches for the entirety of the region's past, from Paleo-Indians to contemporary ranchers. What results is an unusually interesting and inclusive guide that would make any trip through the state a great deal more enjoyable.

Vollan, Chuck, "Review of Roadside History of South Dakota By Linda Hasselstrom" (1996). Great Plains Quarterly. Paper 1144.
http://digitalcommons.unl.edu/greatplainsquarterly/1144
This Article is brought to you for free and open access by the Great Plains Studies, Center for at DigitalCommons@University of Nebraska - Lincoln.

# # #

back to top


---